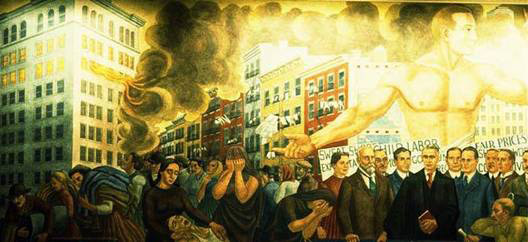 Ernest Fiene, History of the Needlecraft Industry (1938)
All events are open to the public.
February 15
Penn South: The New History
5:30 pm, Faculty Dining Room, A Building, 8th Fl
Nicholas Dagen Bloom, New York Institute of Technology
Nat Yalowitz, Penn South
Students interview tenants on housing policy, NORCs, interior design, and the ILGWU

February 23
Private and Public: Two Unions
5:30 pm, Katie Murphy Amphitheater, D Building
Juliette Romano, President, UCE-FIT
Judy Wood, UCE-FIT 
Bob Lazar, Empire State College, former archivist for the International Ladies Garment Workers Union

March 9
Stories and Songs of the Triangle Fire
5:30 pm, Katie Murphy Amphitheater, D Building
Meredith Tax, author, Rivington Street
Kevin Baker, author, Dreamland
Katharine Weber, author, Triangle
Songs and readings by FIT students

March 18
Women's Rights and Women's Clothes
5:30 pm, Katie Murphy Amphitheater, D Building
Kathy Peiss, University of Pennsylvania
Daniel Cole, FIT
Janie Bryant, costume designer, Mad Men
Stories from the audience about using clothing to win respect in the workplace

March 23
Not One More Fire!
5:30 pm, Great Hall, D Building
Kalpona Akter, Bangladesh Center for Worker Solidarity
Bjorn Claeson, International Labor Rights Forum
Mitch Cahn, Unionwear
Sweatshop and non-sweatshop fashion

March 26
Contemporary Activism in the Labor Movement Conference
9:00 am - 4:00 pm 
Plenary and panels on Contemporary Activism in the Labor Movement
Exhibits by FIT students and artists from across the nation

Triangle 100 Talks

On March 25th, 1911, a fire at the Triangle Shirtwaist Factory in New York City killed 146 workers, most of them young immigrant women. 

One hundred years later, America still struggles with the lessons of the fire.  Recent industrial disasters like the Deepwater explosion, the Massey mine collapse, and fires in overseas garment factories that produce for American companies show that we still do not know how to ensure safe workplaces.  We also continue to struggle with other issues that the victims of the Triangle fire faced: sexual harassment, crowded and unsanitary housing, powerlessness at work, and invisibility in public debate.

In February and March, 2011, join the United College Employees of FIT and FIT in commemorating the hundredth anniversary of the Triangle fire and discussing the problems that still have not been resolved.  Five panel discussions, all free and open to the general public, will look back on various aspects of work in the last century, discuss what has improved and what has not, and offer hope for change in the next hundred years.

All events sponsored by UCE-FIT, FIT, and the Market Cultures Group. March 23rd event co-sponsored by the International Labor Rights Forum.

For a full list of Triangle events around the city and the nation, including the main commemoration on March 25th, go to rememberthetrianglefire.org.  

And stay tuned for info on an all-day conference and exhibition at FIT on March 26th, cosponsored by the Labor and Working-Class History Association.

For further information contact Daniel Levinson Wilk at danlw@fitnyc.edu.