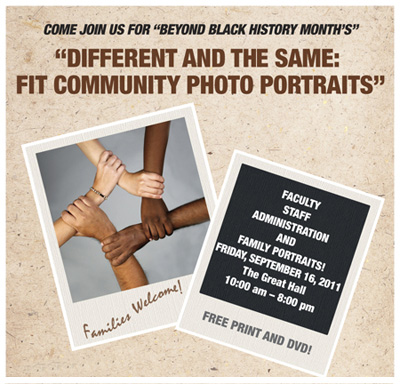 FACULTY, STAFF, STUDENT, ADMINISTRATION AND FAMILY PORTRAITS!
FRIDAY, SEPTEMBER 16, 2011
The Great Hall
10:00 am – 8:00 pm
FREE PRINT AND DVD!
Families Welcome!
 
Dear FIT Community:
 
In preparation for the Beyond Black History Month exhibition scheduled for the "D/C" Lobby showcases in February 2012, The School of Art & Design, the Office of Educational Opportunity Programs, and The Photo Club invite you and your families to come and participate in a free portrait session.
 
On Friday, September 16th, we'll offer a unique opportunity for faculty, staff, and administration to capture and preserve priceless memories in portraits that you will cherish for years. This is an occasion for all to showcase their alliances with others on campus—we are seeking to shoot campus friendships, working relationships, and other affiliations that capture the diversity of our community.
 
All participants will receive one print and one DVD containing all images from their portrait session.
 
WE STRONGLY ENCOURAGE YOU, YOUR FAMILIES AND YOUR COLLEAGUES TO ATTEND!
 
For more information, contact the Office of the School of Art & Design (ext. 7.7650)
or the Office of Educational Opportunity Programs (ext. 7.4170).
 
Many thanks to: FIT Photo Club
This project is sponsored in part by the FIT Student - Faculty Corporation.