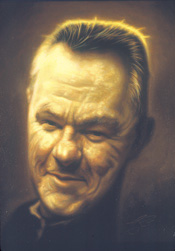 The singular style of Albert Lorenz combines a sense of fantasy and exaggerated detail with an architectural command of reality.  His work has been cited for numerous honors including the Gold Medal from the Los Angeles Society and the Silver Medal from the Society of Illustrators, New York.
His work has been published in the New York Times, National Geographic, Sports Illustrated, Architectural Record, and many other periodicals.  He has received commissions from the American Institute of Architects, the Museum of Modern Art, NY, and the American Museum of Natural History, NY.
After thirty-three years of teaching, Lorenz retired from Pratt Institute, Brooklyn, NY where he was Institute Distinguished Professor.
Harry N. Abrams published his most recent book, The Exceptionally Extraordinarily Ordinary First Day of School, in 2010.  Other books published by Abrams are:  House, Buried Blueprints - Maps and Sketches of Lost Worlds and Mysterious Places, Jack and the Beanstalk, A Journey to Cahokia, and The Trojan Horse, and his newest book Renovated Fairy Tales. 
He is well known for his Buried Blueprints illustrations, a series inspired by a combination of historical and mythological themes.  He is still exploring and expanding this series.
His work can be viewed on the internet at www.albertlorenzstudio.com, and at the web sites of The Illustrated Gallery at www.illustratedgallery.com and also at Worlds of Wonder Art www.wow-art.com.