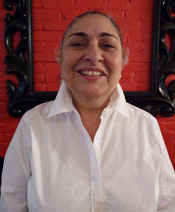 Since graduating from the Parsons School of Design in 1967, Carmile worked as an editorial, promotion, and creative director and designer for American Heritage Publishing,
Newsweek
and the Book of the Month Club. In intervening years, she also ran her own design studio, Zaino Design, with such clients as
Money Magazine
, TimeWarner, and CBS.
For the past 25 years, she has taught Communication Design, Typography, and Graphic Design as an associate professor at Parsons The New School For Design where she was awarded, in 2003, The Henry Wolf Award for Teaching Excellence and, in 2004, Communication Design Department Award for Teaching Excellence.
Carmile left her last full time position as Executive Creative Director at Doubleday Entertainment in 2008 to re-enter the world of freelance design. Since then she has become Creative Director at the virtual design firm of Stransky Studios and a member of the teaching staff of the Fashion Institute of Technology's MFA Illustration program.
In 2009 she spent a month in China where 60 Parsons students and professors collaborated with students from Tsinghua University in Beijing on various design projects, and she is looking forward to an upcoming, design-oriented trip to southern India.
When not teaching or looking for typographic inspiration while traveling, Carmile spends as much time as possible in the western Catskills. There she indulges her love of cooking and gardening, and, from time to time, catches trout on a fly rod.
http://zainodesign.com