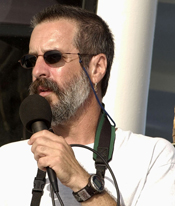 Dr. Arthur Kopelman is a population ecologist whose research interests, since 1987 include the population dynamics and feeding ecology of fin and humpback whales of New York and New England; and since 1995, the population dynamics of harbor, grey, harp and hooded seals of NY. He received his Ph.D. in Biology in 1982 from The Graduate School and University Center of CUNY. Dr. Kopelman is a full professor of Science in the Department of Science and Mathematics. He is also an adjunct associate professor of Marine Science at Dowling College, where he teaches a course titled "Whales of Long Island." Dr. Kopelman is also the president, co-founder, and webmaster of the Coastal Research and Educational Society of Long Island (CRESLI).
For nearly 30 years, Dr. Kopelman has been one of the strongest voices propelling FIT towards embracing the issues of sustainability, and was pivotal in the establishment of the annual SUNY-wide Sustainable Business and Design Conference. Dr. Kopelman is a member of FIT's Sustainability Council and is the chair of the Ad-Hoc Sustainability Committee of the FIT Faculty Senate.
In May 2010, Dr. Kopelman was appointed to Distinguished Service Professorship rank by the State University of New York Board of Trustees. Distinguished Professorship is the highest honor conferred upon instructional faculty in the State University of New York (SUNY) system. Dr. Kopelman is the first faculty member at FIT to be named to SUNY Distinguished Faculty ranks.