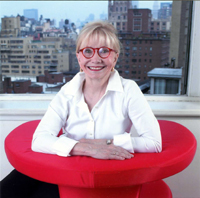 Judy Galloway, is a market researcher and Futurist. She is a Managing Partner of the G-group, a New York City based market research and future forecasting company with clients in beauty, fashion and fragrance. Her clients have included Johnson & Johnson, Polo Ralph Lauren Fragrances and Avon Product, Inc. Judy was named an "It" market researcher by Women's Wear Daily Beauty Biz.
She is currently an Adjunct Professor of Consumer Behavior for the Masters Degree Program in Cosmetics & Fragrance Marketing and Management at FIT, the State University of New York. She also teaches Futuring as well as Consumer Behavior at NYU-SCPS.
Judy developed On the Street Video Research and frequently moderates focus groups, IDI interviews and online research for the G-group. Annually, she publishes the G-Ometer Report that tracks characteristics, contours and contradictions in the culture.
Judy holds a BA in sociology from Mary Baldwin College in Staunton, Virginia where she has named a Visiting Marketing Scholar, a member of The Board of Visitors and was elected the Symth Leadership speaker on Futuring in 2005. She completed the Columbia Business School Marketing Management program and is a graduate of the RIVA Research Institute.