Design Awards
Two Exhibit Design Students win Michael Grivas Sr. Exhibit Design Excellence Scholarship (
video
) (
article
)
FIT Student wins Euroshop Exhibit Design Competition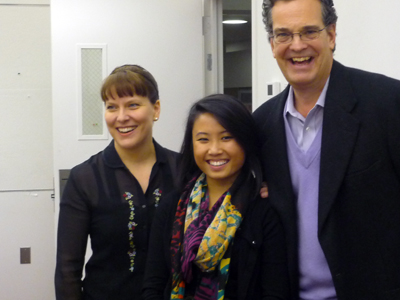 Leslie Ann Chiu wins the EDPA exclusive exhibit booth design competition. The Graduate Exhibition Design Department was engaged by the Exhibit Designers and Producers Association to design their exhibit for the 2011 Euroshop Convention in Düsseldorf, Germany. Leslie's design will be produced incorporating products from Octanorm and Fabric Images Inc.
Leslie will travel to Germany to be presented to the design community accompanying her booth.
Runners-Up were: Adam Carnes, Sarah Frankel, Roni Rabner and Dominica Wozniak.
Exhibition Design Students win Design Competition
The New York Botanic Garden sponsored a graphics signage and wayfinding competition in conjunction with the program's environmental graphics course. Students were challenged with redesigning the Garden's interpretive graphics and directionals into a 3 Dimensional, outdoor system that is flexible, promotes brand identity and engages visitors in the story of the site. Three winners were selected:
Hyesook Lyu (1st place), Yoo Rang Shon (2nd place), and Rita Soni (3rd place)