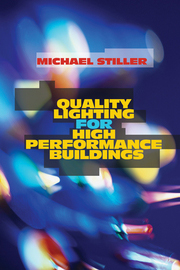 Interior Design faculty member Michael Stiller has written a new book, 
Quality Lighting for High Performance Buildings
. 
As we push for more energy-efficient lighting, and as green construction codes are adopted, it is imperative that we avoid sacrificing good lighting design that enhances our productivity, our comfort, and our health. With this in mind, this book provides an overview of quality lighting and explains concepts like visual comfort, visual interest, and integrated design. Sustainable lighting technologies, including LED lighting and digital control systems, and design strategies that increase visual comfort are discussed in plain language to give the reader, whether an architect, interior designer, engineer, building trades professional, or student, a broad understanding of the art and science of energy-efficient quality lighting.
Faculty may submit requests for review copies on FIT letterhead to Linda Hutchings at Linda@fairmontpress.com, or by faxing them to her at 770 381.9865.