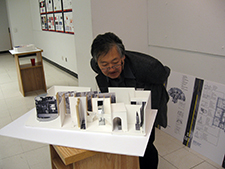 Karl Matsuda is currently a Senior Principal Preparator at the American Museum of Natural History, where he has worked since 2000. Special exhibitions he has worked on include "Genome," "Epidemic," "Einstein," "Pearls," "Petra," "Dinos Alive," "Darwin," "Extreme Mammals," "Race to the End of the Earth,"  "The Brain" (Winner, Silver Communicator Award of Distinction for "Welcome to the Brain'), and "World's Largest Dinosaurs." 
Permanent exhibitions include the Hall of Ocean Life, Hall of Meteorites, Hall of Human Origins, and Hall of Northwest Coast Indians. Other professional experience includes 26 years as General Partner of Squid Frames, and as an artist with CityArts Workshop, and The Basement Workshop, a seminal cultural arts organization of the Asian American community. He was a consulting designer with the Museum of Chinese in America (MOCA) from 1999 to 2004. 
Karl holds a Certificate in Art from The Cooper Union. He has been an instructor in the Fashion Institute of Technology, Master of Arts program in Exhibition Design since 2006.