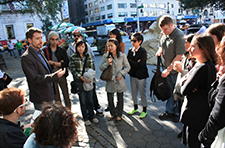 Profession(s): Environmental Graphic Design, Exhibition Design, Branding
Education: BFA, summa cum laude, Hartford Art School. Richard's professional experience includes environmental graphics design work for the Philadelphia Museum of Art, Cooper Robertson & Partners, the Wildlife Conservation Society: Bronx Zoo, New York Aquarium and Central Park Zoo, the Joseloff Gallery and the Museum of American Political Life. His clients have included: Better Homes & Gardens, Karin Bacon Enterprises and International Theatrical Productions.
Richard has published in Visitor Studies Today and is a member of  the Society for Environmental Graphic Design. Awards include:William Wondriska Award for Outstanding Portfolio and his students have been awarded first place in the annual Planning and Visual Education partnerships's Visual Merchandising competition.