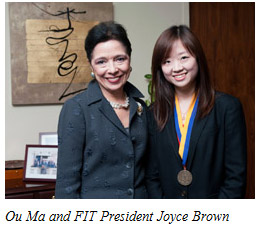 "Designing and making clothes for my Barbie Dolls was the happiest memory of my childhood."—Ou Ma, AAS '11

Tell us about yourself, and what led you to enroll at FIT?
I am originally from Beijing, China. Designing and making clothes for my Barbie Dolls was the happiest memory of my childhood. I wanted to be a fashion designer since I was a little girl; however, my family was not very supportive of this dream. They expected me to study something more serious; moreover, they believed majoring in fashion design was "playing around." Also, the College Entrance Examination in China was very harsh and I did not have a choice to apply for an art school which required a lot more testing on top of the six majors that every student had to study. Besides that, I wanted to come to study fashion design in the U.S. but my family thought I was too young to live by myself overseas when I was 18 years old. After graduating from Communication University of China with a degree in Sociology, I moved to New York City to pursue my dream of being a fashion designer at the best school for fashion design, FIT. While it was challenging being an international student, I tried very hard to be involved, and the FIT community accepted me with open arms.

What have you enjoyed most while at FIT?
There are lots of things I enjoy at FIT. I really enjoy being challenged in my studies. Fashion design students are always very busy with school projects, which involve creativity, hard work and time management. Always pushing myself to be more creative is a lot of fun and encourages me to observe life and art to draw inspiration. I always study top designers' works to understand more about what is successful in design. I've also learned the art of being patient because design is a process that requires attention to small details. In addition, I truly enjoy the competitions at FIT. Competing with my peers always helps me see what I am lacking and what other students are good at so that I can learn from them.

You are very involved in the FIT community, how has that helped you in your studies and professionally?
As the vice president of the Fashion Design Club, my leadership skills were strengthened. I organized special events such as our annual Design Exhibition and Competition, and a fashion show in collaboration with Fordham University for the Make a Wish Foundation. It was a great opportunity to build my communication skills. Also, the networking opportunities that FIT provides have really benefited me, and I believe they will continue to do so throughout my career. Additionally, I love to give back to FIT by being a Student Ambassador and helping other students. I knew firsthand how difficult it can be to fit into a new environment as a new student, so I tried my best to offer my experience and knowledge to assist new students as they enter FIT.

An apprenticeship at Ralph Lauren was arranged for you by William Ghitis, the donor of the Jasha Ghitis Endowed Scholarship which you received, what does that mean to you personally and professionally?
I really appreciate Mr. Ghitis for making the summer apprenticeship possible. I am eager to work with a well-established brand to learn design skills, as well as observe how to run a business. Opening my own line upon graduation has always been my dream, and this apprenticeship will be an excellent way for me to learn, get exposure to the many facets of the industry and network. Thanks to Mr. Ghitis, the Jasha Ghitis Scholarship helped me so much financially, it reduced the burden on my parents and made it possible for me to take an internship at Item House, Inc. as an assistant to Design Director George Simonton, as well as get more involved in the FIT community since I did not have to work full-time while in school. In addition to the financial support, Mr. Ghitis has helped me by opening up his network to me. He is very kind and supportive; I really appreciate what he has done for me. I hope that one day I am in a position to help students just as he has done for me. I feel so encouraged, not just for what I've done in the past, but also motivated to make more progress in the future.

Ou Ma, Jasha Ghitis Scholar, graduated with her AAS in fashion design last fall, and she will continue in pursuit of her BFA in fall of 2012. "I have met Ou Ma several times," says William Ghitis, "I found her to be extremely bright and talented." Ou has certainly made her mark at FIT!: she's a member of Phi Theta Kappa (an International Honor Society), served as a Student Ambassador and as Vice President of the Fashion Design Club. Her fashion design illustration work was selected for a number of exhibitions on campus and she also received the SUNY Chancellor's Award for Student Excellence and won first prize in the Elizabeth Arden Uniform Re-Design Competition.

Scholarship support provides FIT students like Ou with the necessary resources to gain the skills, experiences, and inspiration to excel.

Find out more about supporting the success of our students.

Illustrations from Ou Ma's Avant Garde Collection