Peter Hoffmeister, Fine Arts '07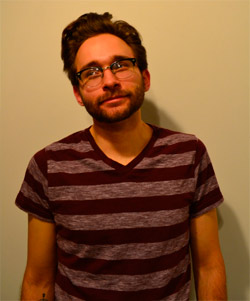 The first time I ever sold my work was while I was at FIT. It was a piece I did in Professor Jeff Way's class. He had picked a few paintings to hang in a hallway in the Pomerantz Center, and an Interior Design faculty member saw mine and wanted to buy it. I had no idea how much to charge, so I asked Jeff. He said $600 sounded good.
But then the problem was getting it to her. It was a big painting—stretched canvas, 4 feet by 5 feet—so I asked a friend to help me carry it. It was raining outside, so I wrapped it in a tarp. We took it on the crowded subway up to 59th Street and then walked it over to Sutton Place. It was my first experience selling work, but I eventually got it there, it was in one piece, I got the money…and it felt nice.
I haven't really stretched a canvas in two or three years. Right now I'm working on paper and using maps as source material to explore how they inform our cultural consciousness. I'm also a guard at the Metropolitan Museum of Art. I helped start a magazine, SW!PE, that features art by Met guards, because a lot of writers, musicians, and visual artists work there. Our first issue got good press—The New York Times ran an article on us, Leonard Lopate (NPR) interviewed a couple of the guys, and I was in a Chinese magazine. My picture was on a spread with Patti Smith—the article was about interesting Americans.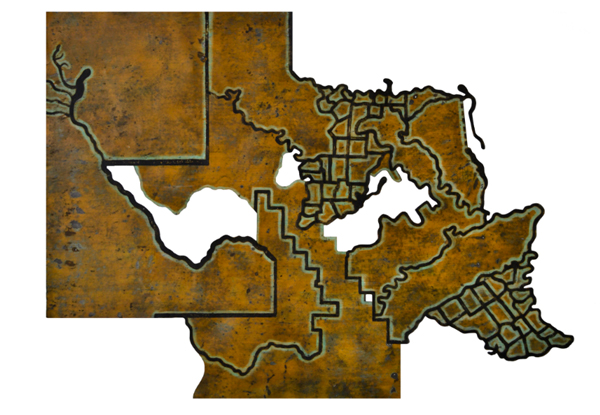 12.29.1845, acrylic and ink on paper, 50 by 58 inches, 2011.