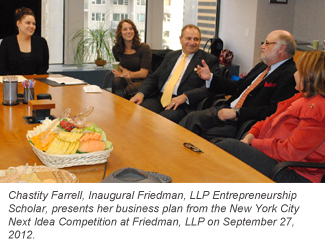 "Chastity is the ideal Friedman Scholar. Our firm contributes to many causes, but I am especially proud of this one because it gives us the rare opportunity to see the benefit of our contribution firsthand."—Harriet Greenberg, Partner, Friedman, LLP

The FIT Foundation is proud to announce that Friedman, LLP, a consulting firm with special expertise in the fashion industry, generously established the first Friedman, LLP Entrepreneurship Scholarship at FIT's Jay & Patty Baker School of Business & Technology. Chastity Farrell was selected by a committee which included Dean Steven Frumkin and Professor Henry Welt, Chair of the Entrepreneurship Department, as the Inaugural Friedman Scholar.
Chastity Farrell, a Bronx, New York native, began her student career at FIT studying fashion merchandising management and is currently pursuing her B.S. in Entrepreneurship for the Fashion and Design industries. Attending FIT full-time, Chastity has immersed herself into her studies, achieving her academic goals and making the necessary connections to attain her dream of opening her own design company upon graduation. She is the founder of Idea NYC, Innovation through Design Education and Art, a project to develop a non-profit fashion brand in which renowned designers and artists will provide design and art workshops for New York City children with the proceeds. Prior to attending FIT, Chastity obtained her A.A.S. in fashion design from Parsons.
As a startup department, in only its second academic year, the Entrepreneurship program is very grateful to Friedman, LLP for its generosity and foresight in creating the Friedman, LLP Entrepreneurship Scholarship. The award of this scholarship not only recognizes the talents and potential of our students, but also salutes FIT's long tradition of fostering entrepreneurship in the fashion and design industries. Perhaps more significant, by establishing this scholarship, Friedman, LLP endorses the Entrepreneurship Program's mission to educate the business innovation leaders who will revolutionize the Fashion and Design industries through the 21st century.
Harriet Greenberg, Partner at Friedman, LLP said, "We owe a lot of our success as a firm to our deep ties to the fashion industry, and we are thrilled to support FIT and the industry's next generation of leaders with this scholarship."
Scholarship support provides FIT students like Chastity with the necessary resources to gain the skills, experiences, and inspiration to excel in the classroom and in their future careers.
Find out more about supporting the success of our students.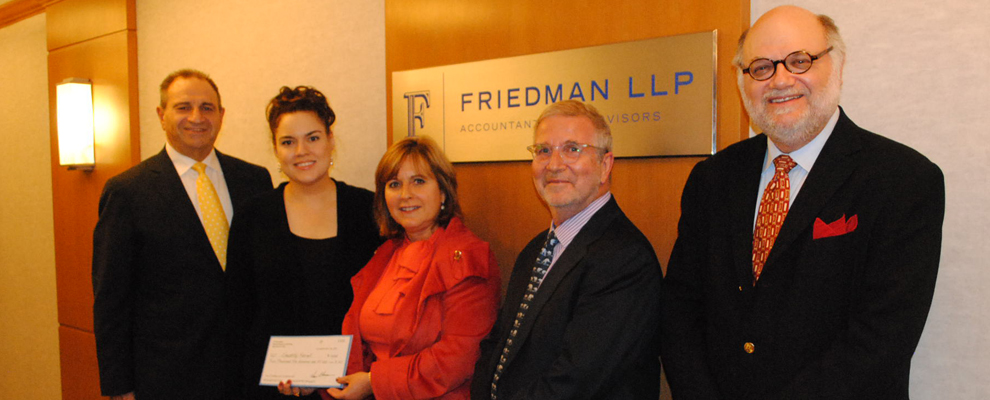 From Left to Right:
Bruce Madnick, Managing Partner, Friedman, LLP; Chastity Farrell, FIT's Friedman, LLP Scholar; Harriet Greenberg, Partner, Friedman, LLP; Henry Welt, Chairperson, FIT's Entrepreneurship Department; Steven Frumkin, Dean, FIT's Jay & Patty Baker School of Business & Technology.