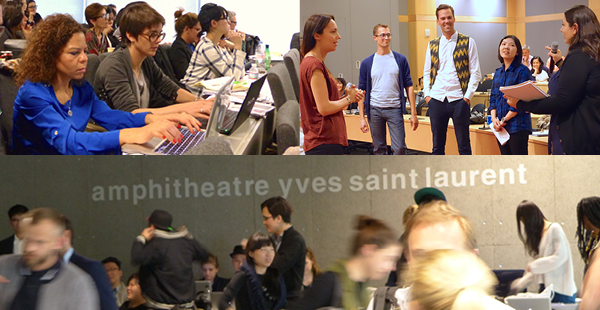 Inline Code 23099
Global Fashion Managementís seminars with partner schools in New York, Paris, and Hong Kong / China encourage cultural exchange, exploration, and discovery in three of the most important regions in the world for apparel production, design, and commerce. The rigorous schedules focus on understanding the business of the apparel industry through lectures, site visits, case studies, and social interaction with colleagues, faculty, and executives. In each seminar, weíll learn about the respective regionís priorities and core competencies in remaining competitive in the rapidly-evolving apparel and fashion industry.
---
The New York seminar (first semester) concentrates on New York City design and designers,
e-and m-commerce and marketing, industry finance, licensing, retail practices, and business
strategy. Past speakers include Neil Cole, CEO Iconix; Jeffry Aronsson, Chief Executive,
Chado Ralph Rucci; Marty Staff, former CEO, Hugo Boss and American Apparel; Paul Charron,
former CEO Liz Claiborne; Diane Ellis, President and COO, Brooks Brothers; and Rick Darling,
CEO, LFUSA (Li & Fung). Cast Studies have included Luca Luca, Blue Fly, Jean Yu,
Tucker by Gaby Basora, and Everpurse.
---
PARIS
The Paris seminar (second semester) focuses on the business and aesthetics of the luxury industry, Parisian retail companies, and the European consumer. Past speakers include: Bruno Pavlovsky, President of Fashion, Chanel; Sidney Toledano, CEO and Director, Christian Dior; Guillaume De Seynes, Hermes International Executive Vice President; Didier Grumbach, Chairman of the Federation Francaise de la Couture; and Floriane de Saint Pierre, President, Floriane de Saint Pierre & Associates. Case studies have included Christian Lacroix, Christian Dior, Anne Valerie Hash, Hollo, Isabele Marant, and Christophe Lemaire.


---
HONG KONG
The Hong Kong / China seminar (third semester) provides a behind-the-scenes view of the complex retail and design region that Hong Kong is famous for and China is becoming. Production is also a highlight with an entire day spent at Esquel, one of the largest vertical factories in the world. In Hong Kong, past speakers include: John Cheh, CEO Esquel; Anson Bailey, Principal, KPMG; Andrew Lo, CEO, Crystal Group; Gordon Yen, Executive Director, Fountain Set Holdings Ltd; and Craig Dana, SVP, Ann Taylor. In mainland China, past site visits include Tangy design studio, Exception workshop and retail store, Shang Xia, and Sabrina Scala Leatherwear factory. Case studies have included Li Lian International Ltd., Uuushooop, and YKK.
---