/
/
/
/
/
Re-application Process for Fall Housing
Re-application Process for Fall Housing
Housing On-campus Made Easy  (H.O.M.E.)
All students must apply/re-apply for housing each academic year. Current/returning students must re-apply each spring through the "H.O.M.E" application process
 H.O.M.E. Application Process:
Applications are available in the spring of each year through our H.O.M.E. process.  The H.O.M.E application process awards students a selection date/time to choose a room accommodation at Kaufman hall, where current/returning students are housed. A $300.00 Non-Refundable deposit is required upon submission of the housing application.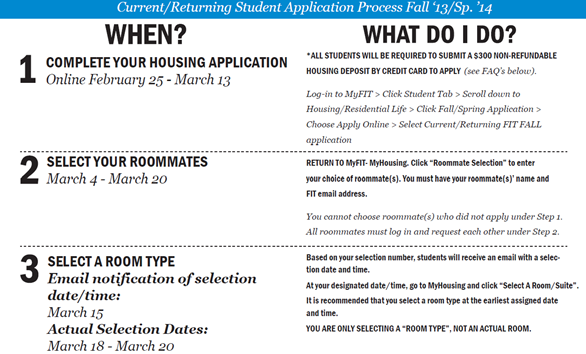 Step 1:
Step 2:
Step 3:
List of H.O.M.E. Frequently Asked Questions can be found here
For Kaufman Hall Tour dates/times, pictures and floor plans click here
FALL '13/SPRING '14 PROPOSED ROOM RATES ARE AVAILABLE.
Housing rates can be found here.