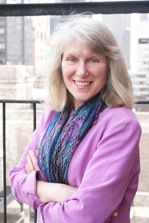 Catherine Bobenhausen is an adjunct faculty member in the Interior Design Department, Sustainable Interior Environments Graduate Program.   She is an experienced environmental health & safety professional specializing in applied indoor air quality research and diagnostics.  
Catherine is a Senior Industrial Hygienist with Vidaris Inc., a NYC firm focusing on serving a niche marketplace in the A/E/C industry, offering consulting and monitoring services for high-performance buildings and specialty structures in all real estate market sectors. In her work, she applies current methodologies to avoid chemicals of concern in interior finish selection, and evaluates indoor air through testing and intervention in programming and design of new and renovated healthcare and other specialty spaces.   
Catherine is a Certified Industrial Hygienist (CIH) in Comprehensive Practice, American Board of Industrial Hygiene, a Certified Safety Professional (CSP) in Comprehensive Practice, Board of Certified Safety Professionals, and a LEED Accredited Professional, in Building Design + Construction.  
She served as instructor with Harvard Graduate School of Design Office of Executive Education for eight years, contributed to the NYC Green Codes Task Force, and co-authored "Indoor Air Quality" in Anna, D.H., The Occupational Environment: Its Evaluation Control and Management.
She holds a Master of Science, Toxicology Option, Environmental Engineering Department, New Jersey Institute of Technology Institute of Hazardous & Toxic Waste Management, Rutgers Medical School and the University of Medicine and Dentistry of New Jersey's Graduate School of Biomedical Sciences and a Bachelor of Arts in Environmental Science, State University of New York College at Purchase.