/
/
/
/
Portfolio Requirements
Portfolio Requirements
Print these requirements by clicking here for a .pdf version.
NOTE: These instructions are for portfolio preparation only. Do not submit or mail any portfolio items to FIT until you have applied and received your USERNAME, PASSWORD, and LOGIN INSTRUCTIONS in an email from the FIT Admissions Office.
Associate of Applied Science (AAS) Degree 
The Accessories Design portfolio submission consists of a design test, original artwork, and a written essay. We want to understand your creative process in both visual and written components. We ask that you put thought into your process and work to create original creative art that reflects your unique self-expression and special quirks. We want to see who you are in your design process.
PART ONE: Design Test

PROJECT ONE:  SKETCHING TEST

Set up a still life with one (1) shoe and one (1) handbag from your personal collection. Using any color medium, sketch the bag and shoe still life. Time yourself.  Sketch for 30 minutes. In the layout, state the reason for your selection of these two pieces. Be sure to submit a photograph of your still life along with the sketch.  
Example of how to set up your still life: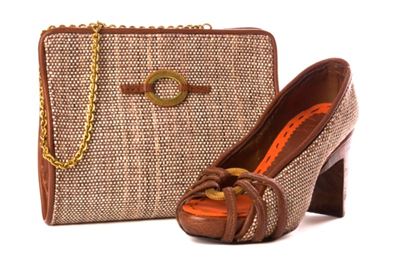 Example of finished sketch: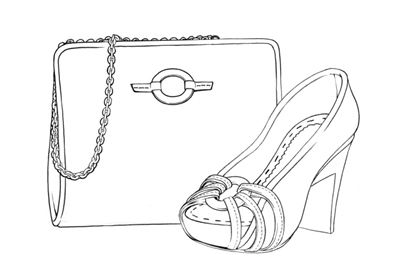 PROJECT TWO:  ACCESSORIES COLOR RENDERING
Submit three (3) sketches of bags, three (3) sketches of shoes, and three (3) sketches of belts. Each sketch must be your own original design. You are permitted to include photo images, magazine tear sheets, or simply explain your inspiration in a short narrative. Include an explanation of the color mediums you chose and include a 2" x 2" material(s) or leather(s) swatch on the front of each sketch along with an image and/or explanation of your inspiration. Write and submit a description for each of the Accessories Color Rendering sketches.
PART TWO: Your Original Artwork
PROJECT THREE:  TECHNICAL CAPACITY/CREATIVE ARTS
Option A: Technical Capacity
- Take one of your original drawings and manipulate it in Adobe Illustrator or Adobe Photoshop. Your work should demonstrate proficiency in either of these programs. Originality, creativity, and design aesthetic are valued. Write and submit a brief description for this project.  
OR
Option B: Creative Arts - Submit 3 to 5 photographs or actual creative art samples (other than accessories) that you have made, which may include paintings, ceramics, sewing, photography, etc. The samples should demonstrate knowledge of a creative skill set. Originality, creativity, and design aesthetic are valued. Write and submit a brief description for each of these projects.

PART THREE: Written Essay
In 250 words or less, tell us about yourself. What are your aspirations and desires? Why do you want to be in the Accessories Design program? 
Please also see our general Portfolio Requirements page.
---
Bachelor of Fine Arts (BFA) Degree Program
Your portfolio should include projects from your major design classes that reflect your knowledge, skill, and creativity in accessories design. After you have applied and your application has been reviewed for eligibility by the FIT Admissions Office, you will be contacted by the Accessories Design department with additional instructions regarding your portfolio.