Women Place 2nd at Region XV Cross Country Championships; Dieter Gutbrod Places 4th Overall in Men's Race

SUNKEN MEADOW STATE PARK, NY - The FIT Cross Country Team was at the Region XV Championships in late October, held at Sunken Meadow State Park in Kings Park, NY.  The women's team placed 2nd overall, only 5 points away from a Championship.  FIT's lone male runner, Dieter Gutbrod, placed 4th overall amongst a 40 person field.Read More  
---
CROSS COUNTRY WOMEN PLACE 2ND AT REGION XV CHAMPIONSHIPS
(Taylor Heinselman)
The FIT women's cross country team placed second overall at the Region XV Championships held Sunday, October 22nd at Sunken Meadow Park on Long Island. The men did not have enough runners to finish as a team, however both runners placed 22nd or better in the race. Read More
---
MEN'S AND WOMEN'S CROSS COUNTRY/HALF MARATHON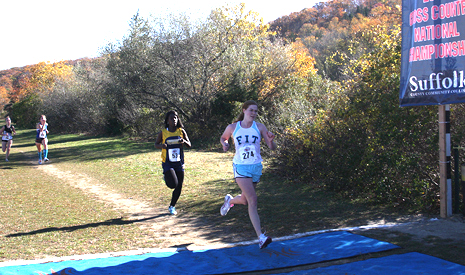 The FIT Cross Country & Half Marathon teams made their debut in the fall of 2005. The teams have developed into regional contenders and earned national recognition.
The 2008 Cross Country Women finished 2nd in the Region and 8th in the nation. Nationally, the FIT 2008 and 2007 Women's Half Marathon teams have finished 13th and 10th respectively; while the Men's teams placed 14th in 2007 and 15th in 2006.
FIT has had several cross county and half marathoners named to All-Region and Academic All-Region teams. FIT runners train and compete at some of New York's best-known courses, including Central Park and Van Cortland Park.
The FIT student athletes have the opportunity to train with world renowned athlete/coach, Toby Tanser.