Honors Courses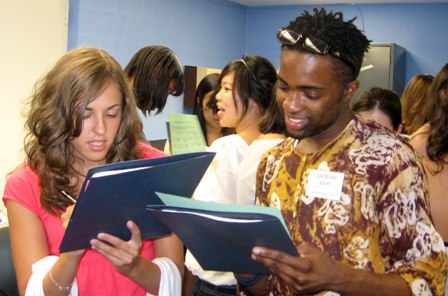 The Liberal Arts honors courses stimulate the imagination and broaden your perspective. As a Presidential Scholar, you have the option of substituting an honors class for a required Liberal Arts course. Honors classes meet all departmental and SUNY requirements.
You can still take honors courses – even if you are not accepted into the Presidential Scholars program. All you have to do is maintain a 3.5 GPA and you can still substitute an honors course for a required Liberal Arts courses.
All honors courses have a maximum enrollment of 20 students.
EN 381 - Asian Literature: Regional Selections (Professor Jean Amato)
Meets Gen. Ed. Requirement G9 - Other World Civilizations; G7 – Humanities (Pending Approval)
Designed as an introduction to East Asian fiction, this course will focus on literature from China, Taiwan, Hong Kong, Japan, and Korea from a transnational perspective. Through a range of contemporary to classical canonical fiction, students will investigate various literary genres, and explore critical concepts of literary and cultural identity studies. All readings are in English with no prior background on East Asia required.
EN 391 - Creative Imagination: Theory and Process (Professor Amy Lemmon)
Meets Gen. Ed. Requirement G6 – Arts; G7 – Humanities
Theories of the creative process and the nature of creativity are explored. Through readings, journal entries, and case studies of writers, painters, and other artists, students discover practices useful in producing creative works. Particular attention is paid to the creative works of artists traditionally marginalized by gender, race, ethnicity, or socioeconomic class.
EN 392 - Greek Myths and their Transformations (Professor Prudence Costa)
Meets Gen. Ed. Requirement G5 – Western Civilization; G7 - Humanities
A selection of Greek myths associated with the house of Atreus, the myth of Phaedra and Hippolytus, and those associated with Orpheus will be examined in detail.
EN 393 – Shakespeare  (Professor Barbara Janoff)
Meets Gen. Ed Requirement G7 – Humanities
Familiarizes students with the theatre of Shakespeare through language, character and plot analysis. Discusses theme of deception, betrayal, and power and emphasizes new interpretations of Shakespeare's plays through readings and videotaped performances.
EN 394 - American Lives (Professor Carole Deletiner)
Meets Gen. Ed. Requirement G7 - Humanities
This literature seminar presents the opportunity to explore the autobiographical impulse in American writing, past and present, through full-scale biographies, works of fiction, drama, and poetry, and in the memoirs so popular today. Students write an autobiographical essay on an aspect of their lives.
EN 398 - Film Art/Film Critic (Professor William Mooney)
Meets Gen. Ed. Requirement G6 – Arts
Students are introduced to cinema history and the basic tools for writing about the art of film. They study how meaning in narrative film is elaborated by uses of camera, editing, lighting, sound, and acting. The course emphasizes the contrast between studio and non-studio films, especially those of Europe, Asia, and third-world countries in contrast to products of the powerful Hollywood system.
EN 399 - The Craft of Writing Poetry (Professor Barbara Janoff)
Meets Gen Ed. Requirement G6 – The Arts
Students immerse themselves in writing poems while they examine the technical and historical aspects of poetry. They study the basic elements of poetry such as image, figurative language, rhythm, diction, and form to develop the potential of those elements in their own writing. In order to understand their own creative processes, students read essays about craft and process.
HA381 - The Word and the Page:  A History of Writing and Books (Professor Richard Turnbull)Introduces students to the history of writing and the production of manuscripts and books, beginning with the earliest cuneiform and  hieroglyphic writing systems to the digital revolution.  Students will learn how and why writing developed across a variety of cultures and will  study written texts as artifacts whose meanings are contextual, evidential, and aesthetic. Students will also visit the rich collections of materials in NYC, letterpress printing studios, and papermaking ateliers.
HA 391 – The Bauhaus (Professor Katherine Michaelsen)
Meets Gen Ed. Requirement G7 – Humanities (Prerequisites: HA 112, HA231)
Ths course studies the history and development of the Bauhaus (the German art, design and architectural school) and its influence in the fields of architecture, photography, furniture design, typography, industrial design, textile design, dance, and theater, as well as painting and sculpture.
HA 392 - The Art of Venice: Titian to Tiepolo (Professor William Barcham)
Meets Gen Ed. Requirement G7 – Humanities
This study of Venetian history provides background for understanding the painting, sculpture, and architecture of Venice from the Renaissance through the 18th century.
HA 394 - History of New York Architecture (Professor Andrew Weinstein)
Meets Gen. Ed. Requirement G6-The Arts (Prerequisite: HA 112)
This course studies the history of architecture in the city of New York. Students are introduced to style, iconography, technical innovation, geography, and the cultural, social, economic, and political forces that have shaped the city's buildings from the early seventeenth century to the present.
HA 395 - Studies in American Indian Art and Civilization (Professor Anna Blume)
Meets Gen. Ed. Requirement G7 – Humanities; G9 – Other World Civilizations
A study of the art and culture of American Indians from Alaska to the border of Mexico, from prehistoric time to the present. Students study the architecture, painting, carving, pottery, textiles, and rituals and the dramatic changes in American Indian art and culture due to colonial contact.
HA 396 - Art and Patronage in the Italian Renaissance (Professor David Drogin)
Meets Gen. Ed. Requirement G5 – Western Civilization; G7 – Humanities
This course surveys Italian Renaissance art patronage, emphasizing sociopolitical contexts and the celebration of power. Emphasis is given to patronage in courts and republics, and to the merchant class, princes, and popes. The course also considers patronage of less dominant groups, such as women.
HA 397 - Studies in Maya Art and Culture (Professor Anna Blume)
Meets Gen. Ed. Requirement G9 – Other World Civilization (pending)
An in-depth study of Maya art, architecture, writing, weaving, ceramics and of the way these visual forms express aspects of Maya daily life and belief from 300 BC to the present.
HA 398 - Architecture and Faith: Ancient and Islamic Cities (Professor Richard Turnbull)
Meets Gen. Ed. Requirement G7 – Humanities (pending); G9 – Other World Civilization (pending)
Prerequisites: Qualification for Presidential Scholars Program or 3.5 GPA with approval of Dean for Liberal Arts This course explores the commercial, cultural and artistic development of urban cultures in the Mediterranean and Near East regions in the ancient, medieval and Islamic periods. Major case studies include Rome, Baghdad, Cairo, Jerusalem and Constantinople/Istanbul.
LA 391 - Issues in the Humanities and Technology (Professor Jay Sullivan)
Meets Gen. Ed. Requirement G7 - Humanities
Examines the relationship between cultural traditions and the technological present and future. Current issues in medicine, science, the arts, and artificial intelligence provide the platform to study the impact of technology on human society and the world. Major philosophical positions, definitions of terms, and their social and historical context are discussed.
LA 392 - United States History and Culture: 1860 – Present (Professor Jay Sullivan)
Meets Gen. Ed. Requirement G10-American History
Major historic events and developments will be examined in the context of their impact on U.S. government, politics and culture. Works by painters, photographers, sculptors, advertisers, dances, musicians, novelists, filmmakers and dramatists will be used to broaden the study of U.S. history.
LA 394 - The Old and New Testaments in the History of Ideas (Professor Mark Goldblatt)
Meets Gen. Ed. Requirement G5 – Western Civilization; G7 – Humanities
Students examine the influence of selected books, chapters, and verses form the Old and New Testaments on the literature, philosophy, theology, and politics of western civilization. Emphasis is given to ideas located in scripture as they have been developed by religious thinkers, systematic theorists, and creative artists.
LA 395 - Masterpieces of Music in the European Classical Tradition (Professor Dan Cooper)
Meets Gen. Ed. Requirement G6- the Arts
Through lectures and demonstrations, this course will cover the main musical developments associated with the Medieval, Renaissance, Baroque, Classical, Romantic, and Modern periods. No previous musical background required.
LA 396 - Religion and Religious Dissent in American History (Professor Mark Goldblatt)
Meets Gen. Ed. Requirement G7 – Humanities; G10 – American History
Students examine the ways in which religious controversies have figured, directly and indirectly, in many of the major events of the early history of the United States, up to and including the Civil War.
LA 397 - New York City and the Invention of America (Professor Dan Levinson Wilk)
Meets Gen. Ed. Requirement G10 – American History
Students learn the history of America from the Civil War to the present through the lens of its greatest metropolis. Readings stress the roles that New York has played as innovator, counterpoint, and despised exception in politics, economics, technology, and culture of America.
MA 392 – The Mathematics of Personal Finance (Prof. Bernard Dillard)
Meets Gen. Ed. Requirement G2 – Mathematics
Want to get fiscally fit? This course covers the mathematics that underlies essential notions of financial planning and will enable students the use of mathematical techniques to inform and influence decisions concerning their own financial well-being. The course focuses on applications in personal finance, exploring interest types, the pitfalls of credit cards, mortgages, retirement portfolios, and investing. Course will include field trips to financial museums and banks in New York City as well as guest speakers.
PL 391 - Ancient Greek Philosophy (Professor Spencer Schein)
Meets Gen. Ed Requirement G5 – Western Civilization; G7 - Humanities
This course examines the origins and developments of philosophy in the West through the Hellenistic period; contributions of Socrates, Plato and Aristotle are emphasized.
SC 391 - Crime Scene Chemistry (Professor Karen Pearson)
Meets Gen. Ed Requirement G3 – Science (pending)
This course explores fundamental concepts in chemistry by examining actual case studies related to criminal activity. Students learn the techniques used by investigators to gather and analyze evidence and data. The laboratory section of the course provides hands-on experience with the techniques used by scientists in the field of forensics chemistry.
SS 391 - Economic Ideas Past and Present (Professor Emre Ozsoz)
Meets Gen. Ed Requirement G4 – Social Sciences
Traces the rise of major economic philosophies from before Quesnay through Smith, Ricardo, Marx, Keynes, and beyond. The evolution of broad-scale models of social reality and their relationships to the times in which economists lived are emphasized.
SS 392 - Psychopathology and Modern Life (Professor Joseph Maiorca)
Meets Gen. Ed. Requirement G4 – Social Science
Students learn the symptoms, causes, and treatment of psychological disorders and the contemporary issues facing mental health researchers and practitioners. Psychopathology is presented as both a scientific and a clinical endeavor that will give students the clearest understanding of the field. Information from the text and lectures are based on current research, findings, and different theoretical approaches.
SS 393 - Politics in the Middle East (Professor Yasemin Celik)
Meets Gen Ed. Requirement G9 - Other World Civilizations
This course is designed to give students a background in Middle Eastern politics. The course will examine the ethnic, religious and the geopolitical composition of the Middle East. It will focus on issues of conflict – the Arab-Israeli dispute, the Persian Gulf War, several regional and civil wars, and the nature of authoritarian regimes' abuses of their own citizens. Finally, the course will explore issues of economic and military cooperation among countries in the Middle East and with other countries.
SS 394 – Global Financial Markets (Professor Emre Ozsoz)
Meets Gen. Ed. Requirement G4 – Social Sciences
This course discusses the general principles and main concepts of international finance. Topics such as the world financial system and institutions, global financial instruments, and interruptions in the international financial markets (i.e. the financial crisis of 2008, the East Asian Financial Crisis) are addressed.
SS 395 – International Conflict in the 21st Century (Professor Yasemin Celik)
Meets Gen. Ed. Requirement G9 – Other World Civilizations
This course is designed to examine the nature of international conflicts in the 21st Century. Students analyze how international conflicts have occurred through time while examining the question of why people and states take particular types of actions. The course focuses on various parts of the world in which there is a high level of international conflict. Students review case studies that demonstrate examples of post-cold war conflict including terrorism, civil war, and international intervention.
SS 394 – Social Experiments: Answering the Questions of Social Psychology (Professor Daniel Benkendorf)
Meets Gen. Ed. Requirement G4 – Social Sciences
This course familiarizes students with basic and applied research in social psychology. This will be achieved through course readings, class discussions, and field assignments. Additionally, since this is an experimental course, students will not only study social influences on the behavior of individuals, they will also have the opportunity to apply what they learn firsthand by conducting their own controlled field experiment. The goal is for students to leave the course with an interdisciplinary knowledge of social psychology and social research methods, as well as experience conducting their own studies from start to finish.