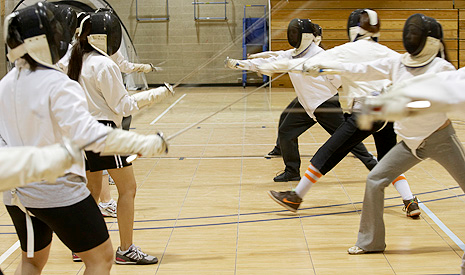 A health-conscious way of living
A satisfying life goes beyond academic and career pursuits. Well-being requires a holistic balance of physical and mental health, fitness, and awareness of the choices you can make to promote a full, active life.
Itís the mission of the Health, Physical Education, and Dance Department to give students the knowledge, skills, and resources they need to achieve better health and physical fitness now and throughout their lives. Comprehensive programs in Health Education (HE), including wellness, stress management, and human sexuality, and Physical Education (PE), which offers a wide range of activities from sports to movement and dance to yoga and tai chi, help you integrate healthy lifestyle choices and physical activity into your daily life.
The department works closely with the†Athletics and Recreation program of the Office of Student Life to promote teamwork and school spirit.
Degree Requirements
The Associate in Applied Science (AAS) degree requires students to complete two courses in Health, Physical Education, and Dance. All HE and PE courses except HE301 Motor Learning can be applied to the requirement. See your advisor to determine specific requirements for your major.
Note: Toy Design students are required to take HE 301. There is no Health or Physical Education requirement for Textile/Surface Design students.
Classes are offered to non-matriculating students through the Office of Continuing Education.