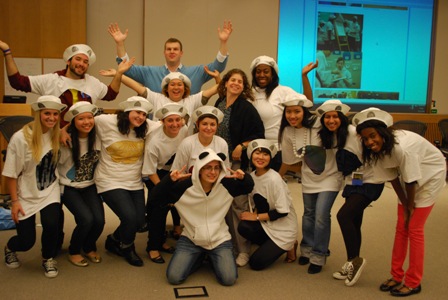 Once a semester, the Department of Student Life sponsors a Leadership Workshop for approximately 30 students active in co-curricular activities and students interested in developing new leadership skills. This workshop is held over a weekend, off-campus, and is funded by the Student Association. The primary goal is to emphasize communication skills, group dynamic skills and specifically shared leadership theory and techniques. Exposure and experience of this kind better prepares students to deal with any number of groups and individuals in school, in their personal lives, and in their chosen fields of endeavor. The weekend is packed with educational activities that are interactive and fun. All students are eligible to participate.
Attend the Leadership Workshop weekend and learn:
To develop group skills;
To be a confident group leader and contributor in groups;
To interact confidently with others;
To ensure that all participants are involved in a decision.
Diversity, Competition, Values, Team Building and Listening Skills are only a few of the topics covered on the Leadership Workshop.

You may have heard about it from students who have attended in the past, now you too have an opportunity to attend! An application will be available from the Department of Student Life, suite A713.  All full time FIT students are invited to participate! Yes!

That's right... from the Freshman Class to Graduate School - you are invited!
Workshop dates are: February, 20, 21, & 22, 2015
Leadership Workshop Waitlist Application

If you have any questions, contact the Department of Student Life at Student_Life@fitnyc.edu. Sponsored by The Department of Student Life / Division of Enrollment Management and Student Success.