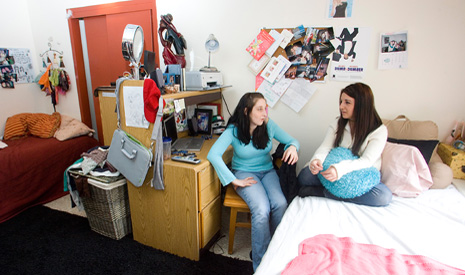 It's your home. Your space. Your haven.

To more than 2,300 students, FIT is home. And even though this is New York City, we like to bring a personal attitude to campus living. The Department of Residential Life provides counselors and student staff who live in the residence halls. They are ready to offer helpful advice about going to school in New York. They're the experts and they're here to help you.
Our four residence halls – all with Ethernet connections – provide single, double, triple and quad occupancy rooms and suites.
Coed Hall and Nagler Hall 
Located on West 27th Street
Offer double occupancy rooms, with a limited number of studios and one-bedroom quad suites
Mandatory Dining Plan
Alumni Hall
Located on West 27th Street
Offers two-bedroom quad suites with bathroom and kitchen
George and Mariana Kaufman Residence Hall
Located on nearby West 31st Street
Offer one-, two-, three-, and four-bed apartment-style accommodations, each with its own kitchen and bathroom
Housing is awarded on a first-come, first-served basis. Help is also available in finding off-campus housing.
All correspondence is sent to your FIT E-Mail address (example: first_last@fitnyc.edu). Check your FIT E-Mail regularly for housing updates and payment due dates to avoid being dropped from your housing assignment.
If you have an on-campus emergency, call the Security Department at ext. 7-7777. If you are off-campus, call 911.
Find out more:
How to Apply 
Cost 
Summer & Recess Housing
Information for Parents  
About the Neighborhood