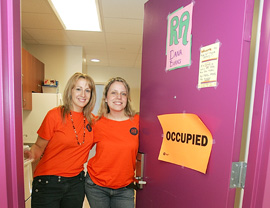 The Residential Life Departmentís overall goal is to provide you with a living and learning environment that not only encourages academic achievement but also provides opportunities that allow you to make contributions to your residential community. A framework is created in which you can explore new ideas and combine knowledge gained in the classroom with knowledge gained by living in a diverse environment. Together we provide a very strong intellectual and cultural life. The Director of Residential Life, an Assistant Director on either 27th or 31st Street, and other professional residential life staff live in the residence halls. We are committed to providing an atmosphere that is conducive to community living.
WHO'S HERE TO HELP? Your RA.
To most residents, the Resident Assistant is the most visible representative of the Residential Life Office.
An RA lives on each floor and is:
a resource for residents in academic and personal concerns
sensitive to the particular problems and needs of residents
a referral agent for professional help
Resident Assistants have scheduled office hours every evening from 6pm - midnight. The RAs who serve the three residence halls on 27th street can be located in the RA Office in Coed Hall lobby. The RAs who serve Kaufman Hall can be located in the RA Office in the basement of the building.
WHO'S HERE TO HELP? Building Managers/Residence Hall Managers

The Building Manager is responsible for community development under the supervision of the Resident Counselor. This includes, but is not limited to, hall administration, programming, advisement, and supervision of Resident Assistants and Residence Hall Community Council. S/he is involved in central office decisions as well as staff supervision and program development.
WHO'S HERE TO HELP? Resident Counselor

Resident counselors are professionals who live on campus and work in the Residential Life Office. RCs are in charge of designated areas and residence halls. The RC:
is responsible for the overall management of facilities and their assigned area including maintenance and operational concerns
oversees programs and activities
helps with issues and concerns regarding adjustment to FIT and the residence halls
WHO'S HERE TO HELP? Residence Hall Community Council

The RHCC is made up of residents who plan events and voice the concerns of the resident student. We encourage all residents to attend RHCC meetings.
WHO'S HERE TO HELP? Security

All residence halls have a 24-hour security guard in each lobby. Residents are required to show a valid resident ID every time they enter the building. The security guard is only the first line of defense when it comes to security measures. Residents are expected to keep doors locked, report any unescorted strangers in the building, and observe safety guidelines as stated in the Resident Handbook.