/
/
/
/
/
Register Online
Register Online
Web Registration Instructions
If you use the web to change your schedule, no add/drop fees are charged.
Self-service terminals are available in Business and Liberal Arts Center, Room103.

Web registration is not available: Monday – Saturday, from 2 am – 4 am

You must use the Course Registration Number (CRN) to register on the web or in person for a particular course section. (the CRN is the four-digit number associated with the course title)

Go to: http://myfit.fitnyc.edu

Enter your FIT username: firstname_lastname. (Note: Your username must be lower case.)

Enter your password. Your default password is your birthday in Mmmddyyy format. For example, April 4, 1986 is Apr041986. (Note: your password is case sensitive.)

Click on Login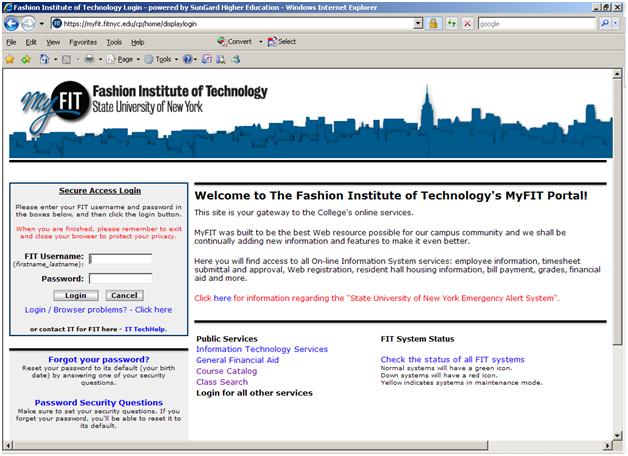 Click on the Student tab.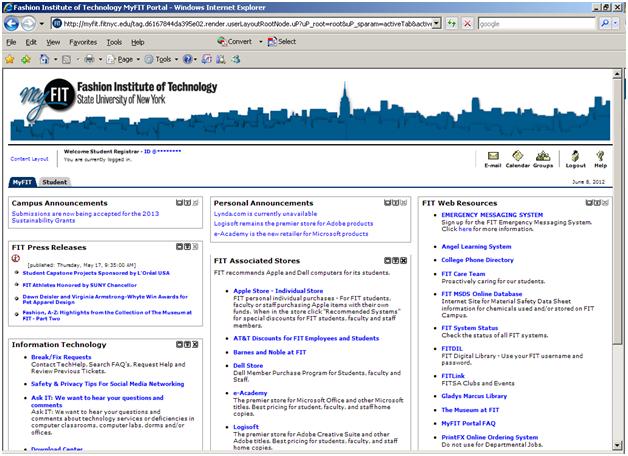 Click Registration.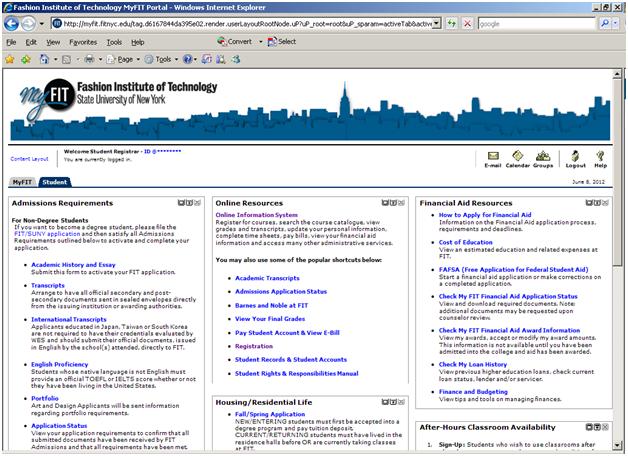 Click Select Term.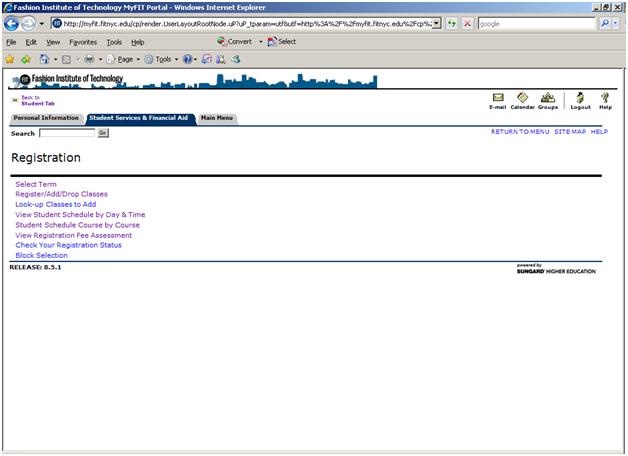 1. Click the term you wish to register for from the drop-down menu.

2. Click on Submit.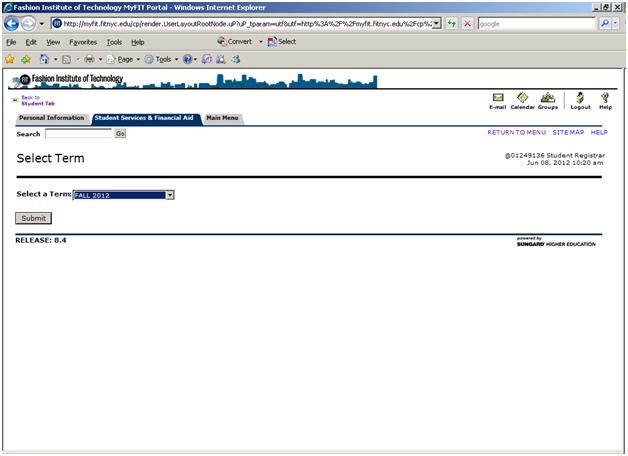 Click Register/Add/Drop Classes.

(Art and Design students: Click Block Selection if you have been instructed to select your major block schedule.
Follow instructions on the screen to complete your block selection.)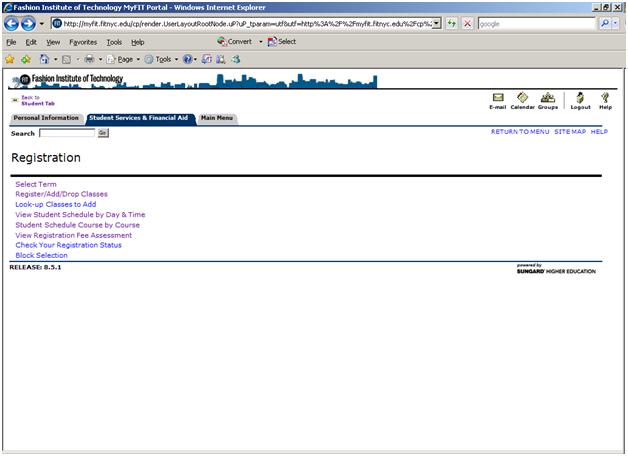 1. Enter the Course Registration Numbers (CRNs) for the courses you have selected.

CRNs are the four- or five-digit numbers listed in the first column of the course listings.

(The CRN in the example is 25283.)

2. Click on Submit Changes to add the course sections entered.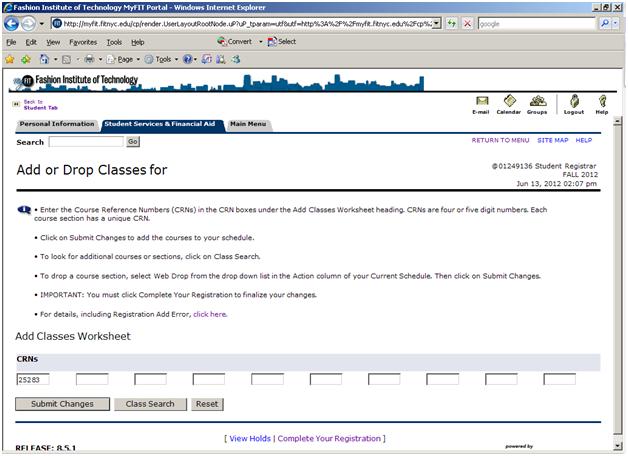 3. If you get an error message, like the Prerequisite and Test Score error in the example, see explanations below.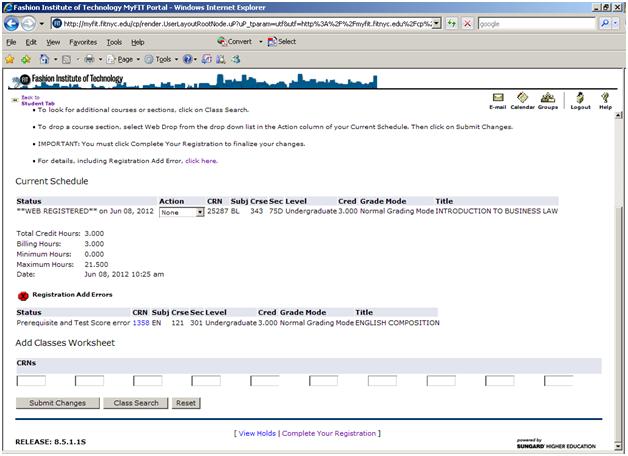 Common Registration Errors:
Explanations are provided below for the most common error messages.

Explanation:
Section not available for web add/drop – Block schedule of required major and related area courses cannot be changed. In addition, you cannot add sections of courses that are restricted for a specific major.

Explanation:
Prerequisite  and test score error – You must take either a placement exam or a course prerequisite before registering for this course.

Explanation:
Time conflict with XXXX - You are already registered for a course that meets at that time.

Explanation:
Duplicate CRN - You are already registered for that course section.

Explanation:
Dupl CRSE with SEC-XXXX - You are already registered for another section of the same course.

Explanation:
Maximum hours exceeded – You may not register for more than 21.5 credits.
---
To look for additional course sections from the Add Drop page, click on Class Search.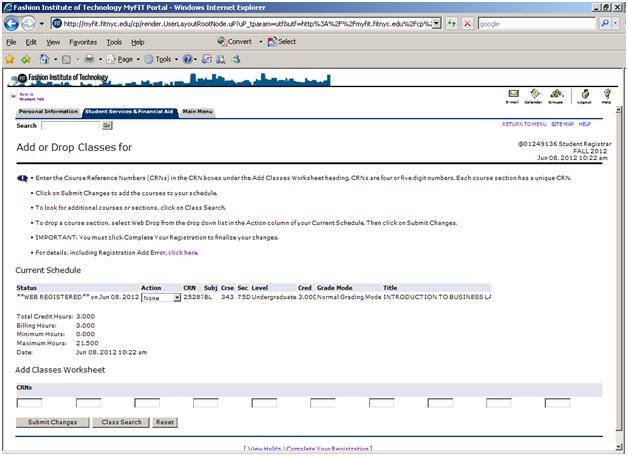 1. Select the Department from the drop down (for example, EN- English & Speech)
2. On the next page, click on View Sections
Or you can do an Advanced Search.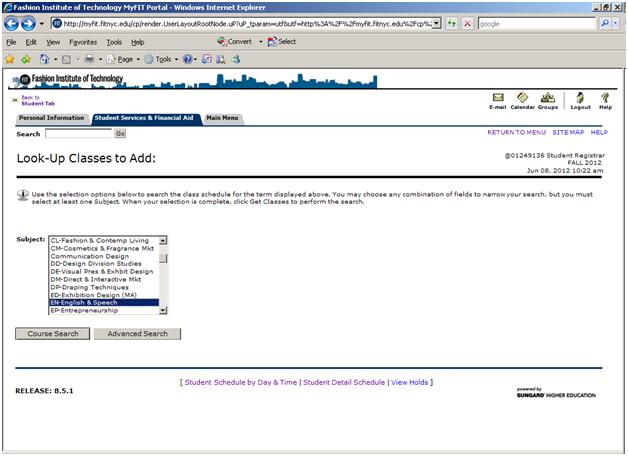 1. To register for a class, check the box in front if the CRN.

2. Click Register or Add to Worksheet.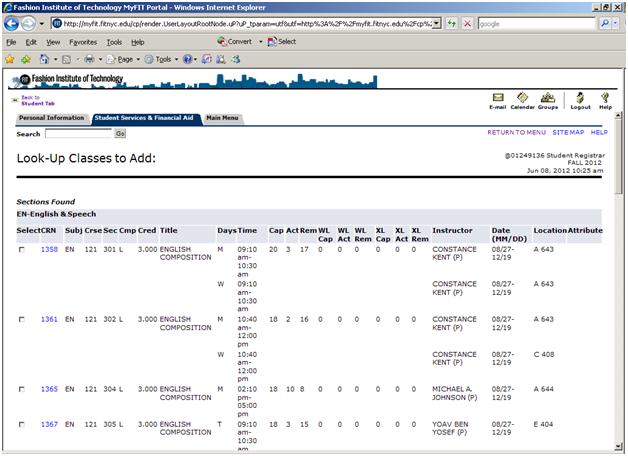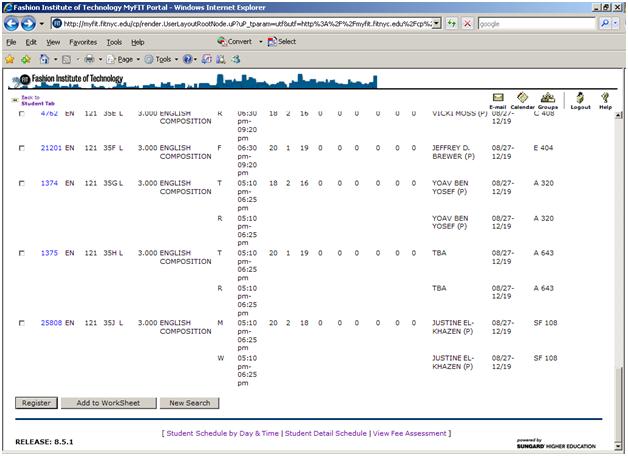 If you have successfully registered, you will see this screen.
(In the example, the student is registered for BL343 for 3 credits.)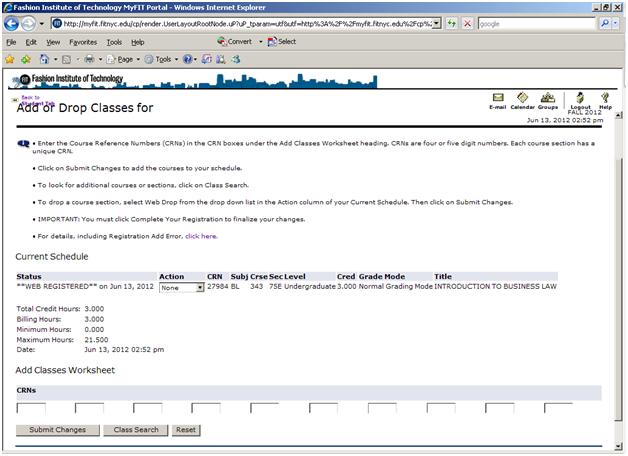 1. To drop a course section, click Web Drop under the Action column.

2. Click on Submit Changes.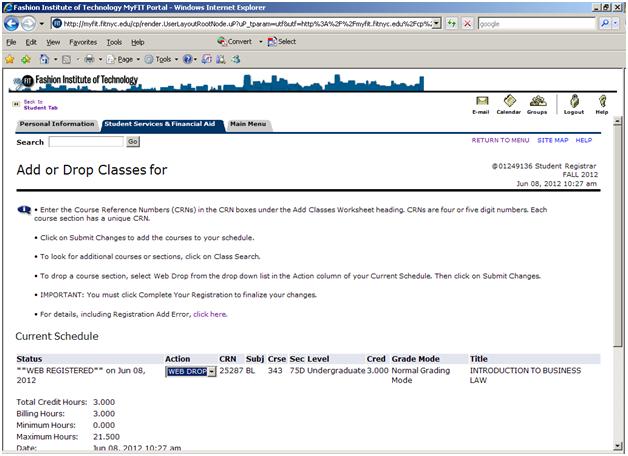 When you are done, click Complete Your Registration at the bottom of the page.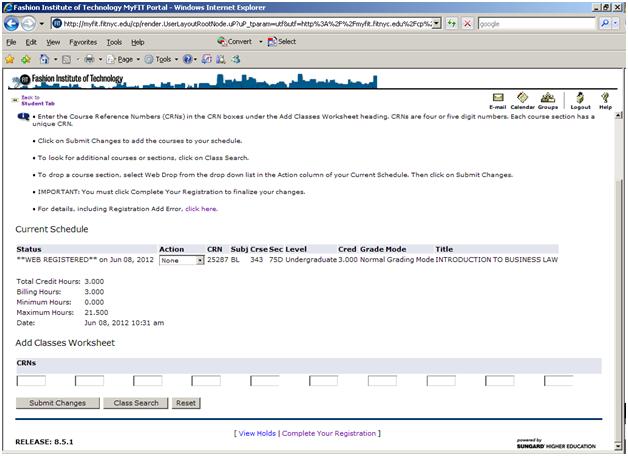 To print your schedule in list format, click Student Schedule Course by Course.
To see a calendar version of your weekly schedule, click Student Schedule By Day & Time and type a date during the next semester (MM/DD/YYYY).

**You must bring a printed copy of your schedule to campus during orientation and the first week of classes. This is your reference and to verify your enrollment with Campus Security.**


CLASS SEARCH OPTIONS
To see section details, click on the CRN.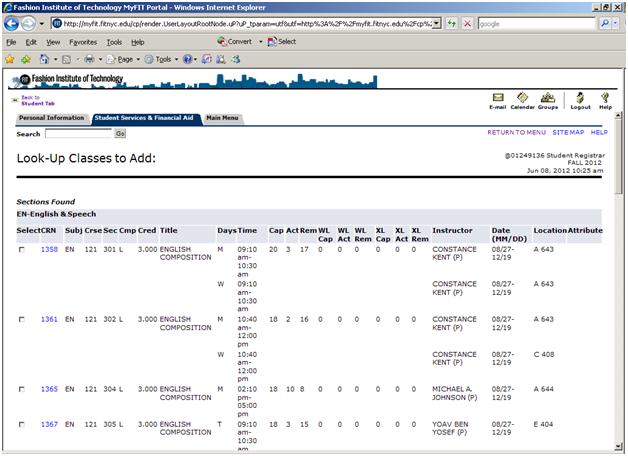 To see enrollment information and course restrictions click on the course title.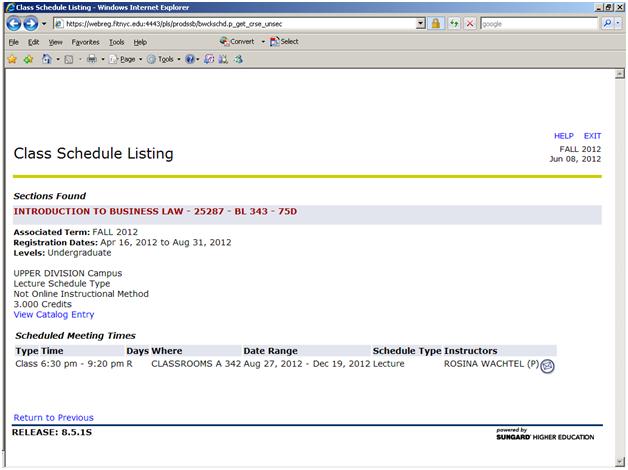 Click Return to Previous
Or to see the course description, click View Catalog Entry.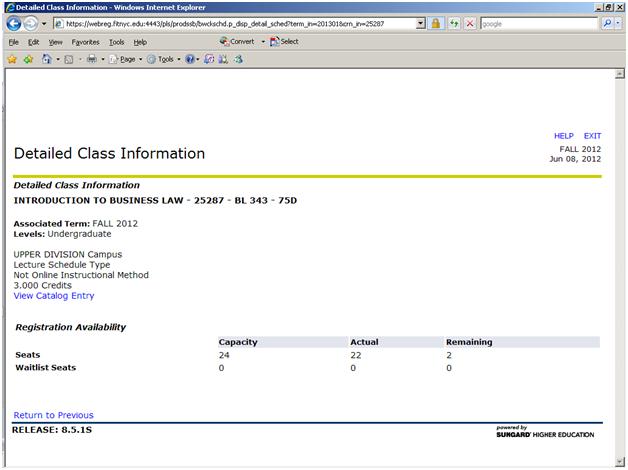 After reading the course description, click Return to Previous.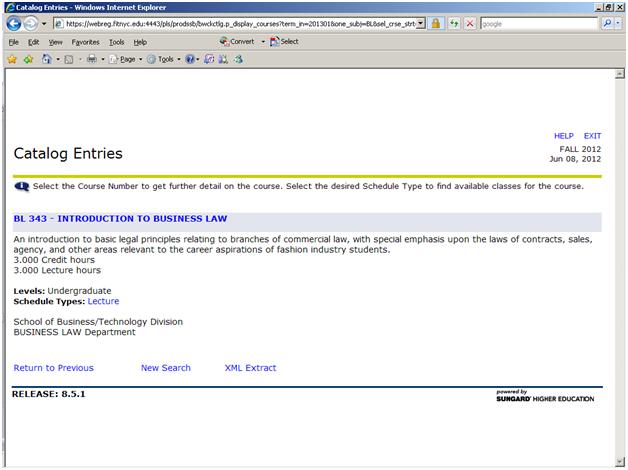 ---