Caps and Gowns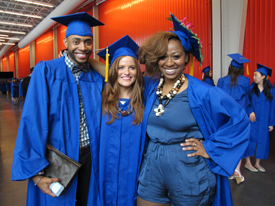 Academic regalia—the traditional cap, gown, and tassel—is required attire for all students participating in commencement exercises. Graduates will be required to purchase the academic attire; prices will be available December 1, 2012.
This year all academic attire will be made from sustainable materials, supporting the continued efforts of FIT in environmental sustainability.
Cap, Gown, and Tassel Pricing 2013
Associate
$50.58
Bachelor
$50.58
Master plus hood
$92.96
Deadlines for Ordering Cap and Gown
Graduates must order their academic attire by the dates listed below to ensure on-time delivery.
In-Person: March 4 - 29, 2013 
FIT Barnes & Noble Bookstore
Monday - Thursday: 9:00 am to 6:30 pm
Friday: 10:00 am to 4:00 pm
Saturday: 10:00 am to 2:00 pm
Pick-up Dates
Graduates will be given tickets to the commencement ceremony when they pick up their academic attire on the dates listed below.
May 6 - 10, 2013
FIT Barnes & Noble Bookstore
Monday, Wednesday, and Friday: Noon – 4:00 pm
Tuesday and Thursday: Noon – 6:00 pm
Please Note:
Members of Phi Theta Kappa may choose to wear the society's graduation stoles to signify their achievement and association with the organization. These stoles may be purchased online throughout the year at www.ptk.org.