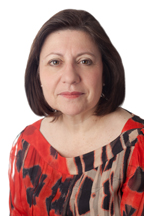 Joanne Arbuckle is dean of the School of Art and Design at the Fashion Institute of Technology (FIT). The school enrolls 4,000 students, has a faculty of 537 full-time and adjunct professors and instructors, and offers 17 majors. As dean, Mrs. Arbuckle oversees all school operations and is responsible for departmental development, special programs, fundraising, student enrichment initiatives, and faculty recruitment.
She served as the schoolís acting dean and acting assistant dean before becoming dean in 2007. Previously she served for five years as assistant chair of FITís Fashion Design Department, beginning in 1999. Ms. Arbuckle joined FIT in 1986 as an adjunct instructor in the School of Art and Design, where she taught courses in childrenís wear, body contour, concepts in fashion planning, and creative interpretation, among others. She became an associate professor in 2002 and a full professor in 2006. In 2003, she won the State University of New York Chancellorís Award for Excellence in Teaching.
An industry professional with more than 30 years of experience, Ms. Arbuckle worked for several companies as a designer and merchandiser before becoming president of the fashion-industry consulting firm Design Integrity from 1994 to 2003. She served for seven years on the nominating committee of the prestigious Earnie Awards in childrenís wear. She has served as a consultant and industry expert witness for law firms on matters concerning the industry, and has participated in interviews for numerous media reports on subjects such as swimwear, childrenís wear, school uniforms, and the New York City fashion industry.
Ms. Arbuckle co-authored the book, Historical Dictionary of Fashion, and contributed to the book, Encyclopedia of Clothing Fashion.
She earned her Master of Arts in educational administration in higher education from New York University, her Bachelor of Science in fashion design at the State University of New York Empire State College, and her Associated in Applied Science in fashion design at FIT.