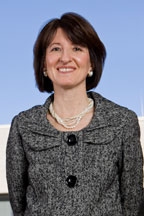 Loretta Lawrence Keane is vice president for Communications and External Relations at the Fashion Institute of Technology, where she oversees a 30-person team responsible for developing and implementing an integrated program of marketing, communications, public relations, fundraising, alumni relations, and government/community relations.
Currently, Ms. Keane also serves as past president of the State University of New York Council for University Advancement, a business organization of 800 advancement professionals serving the 64 campuses of SUNY.
At FIT, Ms. Keane provides overall leadership and planning for a comprehensive advancement program in order to build image and support, enhance visibility and reputation, and advance the understanding of the collegeís mission and strategic goals. She manages a centralized budget for all internal and external marketing and communications activities.
Currently, Ms. Keane participates in arenas throughout the campus as a member of the Presidentís Cabinet, College-wide Strategic Planning Committee, Crisis Management Team, and Commencement Committee (as chair). She has also been a member of the FIT Student-Faculty Corporation (as president), C-Squared Building Project (as deputy director), Marketing Communications Committee (as chair), College-wide Curriculum Committee (ex-officio), and Vice Presidentís Academic Cabinet.
Serving in various capacities at FIT for 25 years, she started her career in higher education at Pratt Institute, which was followed by a Polytechnic University, where she was director of publications.
She is a graduate of St. Francis College, where she earned a BA in English Literature and an AAS in Business Administration. In 2005, she completed the Institute for Educational Management program offered by the Harvard Institutes for Higher Education.