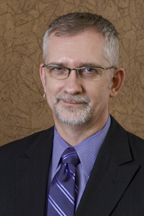 Scott F. Stoddart is dean of the School of Liberal Arts at the Fashion Institute of Technology (FIT).
Before joining FIT in 2008, he served at Manhattanville College as interim provost and dean of the faculty, and acting vice president for Academic Affairs, from 2006 to 2008. Previously he served as dean of Academic Affairs at Manhattanville College, as executive director of special programs at Marymount Manhattan College, as director for the Center for Academic Advancement at Marymount Manhattan College, and as executive director of the Northeast Modern Language Association.
As an associate professor, Dr. Stoddart taught music and musical theater at Manhattanville College, and liberal arts and humanities at Nova Southeastern University. Previously, he was an assistant professor in the English Department at Mount St. Clare College.
A scholar of cinema and modern theater, Dr. Stoddart is author of the book,
The 1980's: American History through Popular Culture
(Greenwood Press, 2006). His numerous professional articles include those on topics such as "Elizabeth Taylor: Uber-Diva" in
My Diva
(Madison: University of Wisconsin, 2009), "The President in Hollywood Film" in
The American President in Popular Culture
(Westport: Greenwood Press, 2004), "Love and Death on Long Island: An Exercise in Self-Reflexive Cinema" (
SCOPE: An Online Journal of Film and Video
, 2001), and "Redirecting the Gaze: Masculine Perception and Cinematic License in Fitzgerald's
The Great Gatsby
" in
F. Scott Fitzgerald: New Perspectives
(Athens: University of Georgia Press, 2000). His numerous conference presentations have included "Strange Bedfellows: The Queer Villains of
Laura and Gilda
" at the 2009 PCA/ACA Annual Convention; "In Defense of Mother: A Scientific Re-Reading of
Psycho
" at the 2008 Film and History Annual Convention; "Color and Light/ Music and Lyric: Artistic Dichotomies in Sondheim and Lapine's
Sunday in the Park with George
" at the 2007 Modern Language Association (MLA) National Convention; and "'The Man That Got Away':
Brokeback Mountain
as Site for Masculine Memory" at the Society for Cinema Studies in 2007. In 2008, he was interviewed on German Public Radio on the subject of the American President in Hollywood Cinema.
Dr. Stoddart has served as executive director of the Northeast Modern Language Association, and as chairman of numerous conferences by the MLA and other scholarly organizations.
He earned his doctorate in American literature and his Master of Arts in British and American literature at the University of Illinois, and his Bachelor of Arts in English and theater at the University of Maine.