Heather Viggiani, AMC Student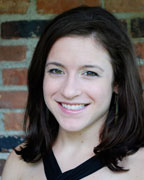 My publicity workshop teacher not only told us the professional things she did, she also let us see into her life. I remember she told us one of the best ways to get ahead as a woman in any industry in Manhattan is to join a gym. She said you wonít believe the people you meet when youíre at the gym. Rather than just assigning a textbook to read, she was helping us live our lives.
In all of my internship experiences so far itís definitely a bonus that Iíve already gotten comfortable talking with senior-level people. As the deputy editor of W27, FITís student newspaper, Iím able to attend industry events as a member of the press, and Iíve gotten to meet people I never expected to meet as a student. My New York moment was blogging for a public relations firm I interned at last semester. I blogged about the word ďrecessionistaĒ early on in its creation, looking at it from a PR standpoint and the impact it had on consumers. I ended up being interviewed by a style reporter for The New York Times and I got photographed and quoted in the Sunday Styles section. This wouldnít have happened if I was going to school in Dallas or Des Moines.