Michael Coan, Jewelry Design Faculty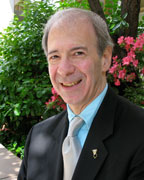 Our Jewelry Design faculty knew about the financial crash way before it happened because gold prices were going up at that time. We had to make provisions for our students, such as adding new skill sets to compensate for the difficult economy. Many of our students already have a degree, and are what I call my "value added" students. If you have strong background in computers, or advertising, or psychology, or English, you bring that to any job in the jewelry field and they will snatch you up. The business is looking for well-rounded people and the more you have to offer, the better your prospects.
We liken ourselves to a ballet school. If you want to learn the fundamentals, that's what we're here for. We give you an intense grounding in what's required as a designer and as a studio bench person. We don't expect any of our students to be a turned-out, polished jeweler in two years' time. I want you to know the proper techniques and what your metals will do and not do. You can break every rule in the book after FIT, but at least you have to know what rules you are breaking.