Sandra Markus, Fashion Design Faculty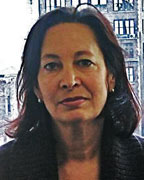 I think a broad-based education is critical, because design doesnít happen in a vacuum. Itís an interactive process. The value of a liberal arts education, of being well-read, of knowing history and art periods is incredibly important to bring a breadth of knowledge to design. Itís not just drawing pretty pictures, itís about connecting the dots.
I very often teach an all-day draping class. While the students are working, I play NPRís ďSelected ShortsĒ or we listen to books on tape, we listen to stories. As a teacher, Iím committed to have my students become lifelong learners, because it doesnít end when they walk out the door. Itís an attitude, an approachóitís a way of life. You can learn the technical stuff on your own, you can pick that stuff up. The approach to the world, and having your eyes opened up, thatís what happens at college. And thatís the responsibility of the teacher, to teach the whole person. Iím not just teaching them how to sew.