Jeffrey Way, Fine Arts Faculty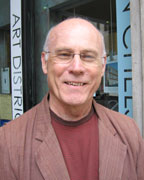 Having been a working artist in New York for the past 40 years, I'm very familiar with the artists and the art scene here and I share a lot of the history with students. I was at the party where Life magazine came and photographed the downtown loft party scene in the late '60s. I also threw a New Year's Eve party in 1975-76 at CBGB's, and can remember when it was called Hilly's on the Bowery.
When I talk to prospective students, I always describe the city as one big resource for the art student. The current art center of Manhattan has shifted from SoHo to downtown and the East Village, to the Williamsburg scene, and now it's in Chelsea, in our backyard, so that's a great asset for any student of art in New York, and especially for FIT students. We've always had good students here, but the general level has been raised significantly, partly as a result of this economic climate. The fact that we're a SUNY college in Manhattan is drawing more students who might've gone to SVA or Parsons or Pratt, and the fact that we're a relative bargain is a great advantage.