Kam Mak, Illustration Faculty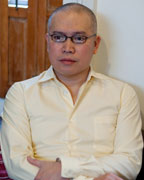 I think maturity—both life experience and years in the field—really makes a difference for me as a teacher. There are things I never learned in college that I had to teach myself, like varnishing a painting. It's actually very complicated and I messed up a few paintings learning through trial and error. I wouldn't want my students to go through that, so I show them the "dos and don'ts."

The U.S. Postal Service invited me to illustrate their Lunar New Year stamp series, and this year's stamp was introduced in New York City. They wanted the ceremony to be in Chinatown, but they needed more space so they did it at FIT. It was such a moving experience for me. Because of New York's ethnic diversity, that kind of thing can happen here. Seeing my students grow up with their work is the best part of teaching. They tell me about the shows they've got coming up, or jobs they've done. It feels really good seeing my students succeed out there.