Tawanna Davidson, Fashion Design Alum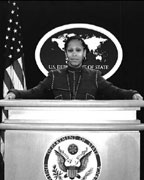 If you think buying gifts for family and friends is difficult, try picking out something nice for the prime minister of Kuwait. Such are the challenges faced daily by Tawanna Davidson, a U.S. Department of State employee, and probably the only FIT grad who can boast of a transatlantic flight aboard Air Force Two.
Davidson joined the State Department in 1998, as a protocol assistant charged with welcoming visiting international dignitaries, overseeing their daily schedules, and yes, helping to select appropriate mementos for them. "The gifts had to be representative of the U.S., but of interest to each head of state," she explains. Subsequent postings placed her in the Office of Press Relations; the Houston, TX, Passport Agency; and the Office of Economic Policy's Bureau of African Affairs, where she currently serves as a program specialist. In this role, she works on presidential initiatives in Africa, such as planning for the July 2007 African Growth Opportunity Act forum, a business improvement conference for eligible African nations.
This year's meeting will take place in Ghana, and Davidson went there in October 2006 to assess conditions in the airport, hotels, and forum venue. She's traveled widely for her work, but this particular trip was "a real eye-opening experience" for her. "When you see [the poverty] for yourself," she says, "you realize just how fortunate most Americans are."
Though it seems an unlikely career choice for someone whose education focused more on draping than diplomacy, Davidson didn't happen upon foreign policy by accident. Her mother (now retired) worked for the State Department, and Davidson worked at the U.S. Agency for International Development while pursuing a degree at a Baltimore university. But all those design classes have been of use: She designed children's wear for her own Andrew Nelson label, which garnered a full-page spread in Sister 2 Sister magazine in 1999.
"My passion is fashion design," she says. And that, she declares, is where she'll make her mark.