Meera Malik, Exhibition Design Alum
Visual Manager for International Retail, Nautica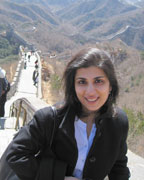 I had been working for seven years before starting the program here, and I'd gotten into this rut because of deadlines and the daily routine. When I started my career my mind was wide open. But it had become hard to think out of the box, to come up with creative, original ideas. I was out of touch with the way I really wanted to design and I hungered to explore the designer within me.
What opened me up was just being there with the faculty and other students, feeling the energy of the program. A breakthrough for me was writing about what I was going to design. Thinking about it without a drawing or a model really brought out my creativity. Your design can speak a lot more if you can write about it and communicate your vision to someone else. The program allowed me to sit back, take my time, and brainstorm like I did at the start of my career, even though somewhere down the line that had gotten lost.
Getting to study in New York was amazing. I've traveled all over the world and I love the design in Paris, and Milan, and Rome, and Hong Kong. What I love about New York is how it constantly reinvents itself. It is perfectly modern because each design here challenges the previous one to be something different, something unique.