Sarah Lewitinn, AMC Alum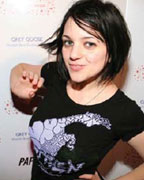 In 2004, Sarah Lewitinn started her own record label, Stolen Transmission, in her Lower East Side apartment. Well known in New York City's music scene as Ultragrrrl, Lewitinn—a popular DJ, blogger, author (The Pocket DJ and the forthcoming Pocket Karaoke), and former Spin magazine assistant editor—figured she'd be a natural. She was right: In early 2006, after a run of self-released, sold-out singles, Universal Music Group added Stolen Transmission to its Island/Def Jam division. Despite the bump to the big leagues, Lewitinn's independent m.o. stayed the same: Scout, sign, and promote the bands she loved.
 If only this was the analog era. Beginning in 1999 with the emergence of Napster, online leaks and free file shares have made the future of the music business look bleak. In December 2007, Island/Def Jam announced layoffs. Ultragrrrl was out of a job.
Meantime, back in her apartment, Lewitinn continues to promote the label's acts every way she can—building bands' MySpace pages, making sure advertising posters get to tour venues, and striking deals with T-shirt merchandisers. Unfazed, she speaks of her situation with a dogged optimism. "I'm pretty much loving it," she says. "It's a great time to change because, really, everyone's changing."
Lewitinn is well equipped to survive music's bumpy transition to the digital era. For one, she enjoys a can't-buy reputation as a soothsayer and tireless campaigner. On her blog and while at Spin, she stumped hard for acts like Interpol, The Killers, and My Chemical Romance long before they became headliners, and this prescience earned her glowing press everywhere from Paper to Vanity Fair. (This won her plenty of animosity from fellow bloggers, enough that the Village Voice gave the Ultragrrrl backlash a cover story in March 2007.) For another, she's a longtime internet devotee with a keen sense of the medium.
Best, she knows the value of a contact and has never burned a bridge. Lewitinn worked "a bajillion" media internships in high school and college, netting friends at each stop. She interned for Michael Hirschorn at the now-defunct Inside.com, later joining him at both Spin and VH1, where he's now an executive vice president. She met Rob Stevenson, the record-label veteran who brought Stolen Transmission to Island/Def Jam, at a cocktail party. True to form, when she met with former IDJ colleagues, Lewitinn bore no grudge. "It was hugs all around," she says.