Courtney Helm, Toy Design Alum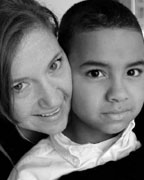 When Courtney Helm's nephew Cameron was born, so was a new concept in dolls. Cameron is of mixed race, with a Caucasian mother and African-American father. Helm wanted him to have toys he could relate to, but she couldn't find a doll that looked like him. A soft goods designer with 12 years' experience, Helm created "Goodwin," her first biracial doll. Now she's the owner of a company that produces Real Kidz, dolls whose features reflect a variety of racial and ethnic combinations.
Starting the company has been a labor of love. "It was the easiest creative thing I've ever done," notes Helm, who also offers four female dolls that blend African-American, Asian, Caucasian, and Hispanic features in various combinations, mirroring the diversity of her Brooklyn neighborhood, Prospect Heights. Like Goodwin, they are 17 inches tall, machine washable, and retail for $15.99. Each has a tag that says, "My parents are from two different ethnic backgrounds. They created me out of love and I am a perfect mixture of both!"
After having the dolls manufactured in China, Helm started out selling to children's boutiques in Brooklyn's Park Slope and exhibiting at the New York Toy Fair. "We're a tiny company, so I couldn't afford to do the toy show again," she says. Instead, she opened an online store, real-kidz.com.
In 2005, orders and fan mail began to pour in, thanks to Helm's appearances on the Hallmark Channel and the BET Network, and an Associated Press article featuring an interview with Helm and Cameron. "I got emails from people all over the country, which was eye opening for me," Helm says. Due to the huge response over the past two years, and the request for additional racial and ethnic combinations, Helm has designed eight new dolls. "I don't know if I'm going to be able financially to do all of them, but they're ready."
Today, Helm is the mother of two young children, as well as the owner of Orange Blossoms, the Park Slope children's boutique that first sold the dolls. "It's kind of like our flagship store for Real Kidz," she says. "Having the store now I can see kids react to them. That's pretty gratifying. I have so many ideas that I don't have time in the day to do."