Evelyn Viohl, Toy Design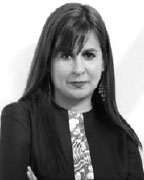 After graduating from FIT with a degree in Advertising Design in 1988, Evelyn Viohl went straight to work as a graphic designer for
Details
magazine. But just one year later, Judy Ellis invited her to apply to the newly minted Toy Design program, and Viohl decided to go back to school. Ellis, who had taught in the Advertising Design Department before founding the Toy Design program, convinced Viohl that her skills and style—playful and colorful, with a knack for translating 2D artwork into 3D shapes— would be well suited to toy design, and helped her secure a scholarship. "It was a perfect fit for me," says Viohl.
"It's very trendy, like the fashion industry," Viohl says of the toy business. Fashion doll designers, for example, work hard to forecast trends in color, themes, and look. And they must modify the aesthetics of their creations every season "to keep up with the shifts in culture." As a result, having instructors who were aware of the latest developments was central to the success of Toy Design. "The program Judy set up very much spoke to the way the industry was operating, and what you needed to do the job," Viohl says.
Viohl spent her summer internship at North American Bear, an upscale stuffed animal company. She enjoyed the small toy shop experience, and after graduation, with Ellis' help, landed a job with Shelcore, a family-owned company specializing in direct import, mass-market preschool toys. Viohl eventually moved on to the preschool division at Tyco, where she worked on the Sesame Street line.
She ultimately wound up at Mattel, where she is now senior vice president of design for the Barbie brand. Viohl has witnessed considerable change in the toy industry over the past 16 years—the demand for technological sophistication has gone through the dollhouse roof. The toys Viohl worked with at Shelcore in the early '90s, for example, rarely employed flashing lights or electronic sounds. "Now it's almost difficult to find a toy that doesn't talk or interact with a child," she says.