Daniel Seifert, Toy Design Alum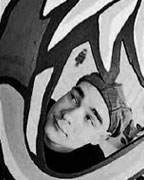 The work of Daniel Seifert, a.k.a. Attaboy, blurs the line between toys and art. An independent designer based in California, acquired his nom de jeu while giving spoken word performances in rock clubs (he now performs as part of the absurdist hip-hop duo Attaboy and Burke). He came to Toy Design from FIT's Illustration Department. He still remembers how rigorous the training was. "Going through that program was like boot camp. It was one of the hardest things I've ever done," he says.
Attaboy worked in the Milton Bradley and Oddzon divisions of Hasbro for four years. In 2000, he decided to go into business for himself, founding his own company, Yumfactory, to design and market his own limited-edition toys. He also began mounting solo exhibition shows of his toys and artwork, and founded a quarterly magazine, Hi-Fructose, to showcase "art, toys, abandoned theme parks, strange candy, and Japanese monster wrestling, all within an art context."
His toys are sold on his Yumfactory website and other toy sites, and at Kidrobot stores. Attaboy's Yumfactory offerings include Axtrx, a four inch- tall green vinyl monster that sports a set of interchangeable mouths for different moods; Qwezshun, a blue beastie with pointy ears and a winged jetpack; and Sweet Talking Gooberry, whose weird, pull-string activated slurping sounds and squeaky, air-bladder ears allow for "improper Plush to Human communication." Axtrx and Qwezshun both belong to the Super Action Nub Nub, his designer toy line inspired by punctuation marks. "Axtrx and Qwezshun are physical embodiments of the punctuation marks '*' and '?,'" says Attaboy, "and their personalities reflect that."
Attaboy's work forms part of a broader art-toy scene that includes distributors like Kidrobot, Munky King, Double Punch, and Rotofugi, all of which traffic in toys that aren't meant just for kids, or even for collectors seeking the games of their youth, but for consumers who want unusual, limited-edition toys designed by individual artists working outside of the corporate toy industry in extremely personal idioms.
Attaboy sees elements of toy design infiltrating other realms, from transportation design (e.g., the New Beetle) to consumer electronics (e.g., the iMac). "The kids have grown up and now want glowing- the-dark and transparent casings for their computers, cars, and dish soap," he says. "When we were in the toy program, we could only dream of such things."