Idit Barak, Fashion Design Alum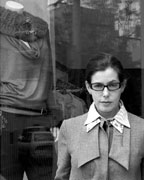 When Idit Barak saw Toledo/Toledo, an exhibition on the illustrator Ruben Toledo and fashion designer Isabel Toledo at The Museum at FIT in 2000, she was inspired and decided to seek an internship with the couple. But when she went for the interview they discouraged her from applying, saying American interns like to hide behind the fax machine. "Look, I'm not going to hide behind the fax machine. I really want to intern here," answered the lanky redhead, who is Israeli but speaks perfect English.  Originally aiming to be a costume designer for the theater, Barak subsequently spent four months with the Toledos, an experience she calls "amazing."
In 2004, Barak opened her boutique, Delicatessen, in a grungy square in central Tel Aviv. The neighborhood—Gan Hahashmal (the Electric Garden)—was then known primarily for its drug dealers and transvestite hookers. Today, though still plenty funky, the area is home to cutting-edge boutiques run by young fashion and accessories designers, and is now a destination for chic Israeli shoppers and savvy tourists alike.
Delicatessen is a destination as well—for two reasons: its fashions and its interior design. Barak's casually elegant women's wear is beautifully constructed and finely finished. Classic with a twist, her designs fit the bill for Israeli women, who seldom wear suits but want to look professional. The Delicatessen line is sold in upscale "young designer" boutiques throughout Israel, and in New York at Rosebud, a SoHo shop specializing in Israeli designers.
Delicatessen has won kudos internationally for its champagne-taste, beer-budget interior. The displays and furnishings in the shop and adjoining design studio, created by New York-based architect Guy Zucker, are made entirely from cardboard tubes (from empty fabric bolts) and linoleum, which is draped like fabric over and around displays (total construction budget: $3,000).
Articles about the store have appeared in such design-savvy publications as Wallpaper, FX, and Frame, and it is featured in an edition of Dress Code: Interior Design for Fashion Shops, a compendium of the world's best retail design. "It's a big honor," Barak says. "Our little shop in Tel Aviv has been placed next to Comme des Garçons, Lanvin, Alexander McQueen. That's been really, really cool."
Barak credits FIT and her exposure to the New York fashion market with helping form both her technique and taste. "FIT got me really excited about fashion design versus costume design," she says, happy to be designing for "a much bigger stage: people, not actors."