Wenlan Chia, Fashion Design Alum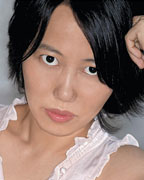 Wearing her handmade knits to design and patternmaking classes in 1998-99, Wenlan Chia caught the eye of friends and strangers alike, who stopped on the street to ask about pieces like her funnel-neck sleeveless tunic and shirt-tailed pullover with a red cross design.
"I knitted sweaters that I wanted to wear but could not buy anywhere,"says Chia, who got a master's in art administration from NYU before coming to FIT for fashion design.
Encouraged by the interest, Chia started her own knitwear business, Twinkle, in 1999. Her work quickly attracted the attention of stylish New Yorkers and stars like Kate Hudson and Scarlett Johansson, and in 2000 she expanded to include a complete ready-to-wear line with whimsical dresses and feminine separates in chiffons, tweeds, and cashmeres, priced from $120 to $800. She added a jewelry line, Twinkle Jewels, in 2004, and 2006 saw the launch of Twinkle Living, a home-décor collection. Her French bulldog, Milan, provided inspiration for witty black-and-white cutout rugs.
Each year, Chia conceives 400 ready-to-wear styles, 50 jewelry pieces, and 20 home furnishing patterns, 85 percent of which are produced and delivered to 350 boutiques and specialty stores (including Nordstrom and Bio) in North America, Europe, Oceania, and Asia. Twinkle employs six full-timers, as well as part-timers and interns.
"I like to be surrounded by fresh ideas, and I get inspired by my employees," Chia says. "My upbringing was pretty free-spirited," she says. "I wrote, painted, and was an active participant in many social and political movements in Taiwan. The liberal culture bred my interest in creativity and the arts."
Her business today reflects that background, as seen in some of Twinkle Living's Asian-inspired floral print bedding items. She also created Dancing Unicorn and Daring Fox designs in intarsia (a knitting technique that resembles mosaic) on sweaters and throws. Chia has published three books, including Twinkle's Town & Country Knits: 30 Designs for Sumptuous Living, her latest. The books are set against the backdrop of various glamorous locations and encourage the same D.I.Y. ethic that helped launch the designer's career.
"I knew exactly what kind of clothes I wanted to create; I just did not know how to make them," she says. "FIT helped me turn the clothes in my head into reality."