Bil Donovan, Illustration Faculty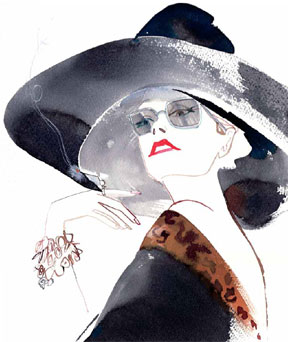 In an age where casual dress is the norm and not the exception, noted fashion illustrator and faculty member Bil Donovan is something of a throwback—and a proud one at that.

"The age of elegance is gone," Donovan laments. "There was a time when a woman wouldn't dare to leave the house without makeup and the right gloves."

This old-school devotion to classic glamour led Donovan to illustrate a new adaptation of a book by legendary Hollywood costume designer and proto-stylist Edith Head. In The Dress Doctor: A Prescription for Style from A to Z, icons and themes of Head's era are brought to life in vivid works.

"Growing up in South Philadelphia— not exactly a capital of fashion—movies that featured [Head's] work were my only outlet," says the artist, who works in a variety of media, from graphite and acrylic to glitter and pastels. "These films were like Christmas presents. As a kid, after seeing all this glamour on screen, all I wanted to do was run home and draw what I had seen."

Donovan moved to New York at 19 and studied drawing and illustration all over the city, from the Art Students League to the School of Visual Arts, before receiving his AAS in Fashion Illustration at FIT in 1978. At 30, he spent time abroad in Milan and elsewhere—including a stint in Paris as a shoe designer. He added numerous enviable credits to his resume, which now includes Vogue, L'Uomo Vogue, and Italian Elle. He has taught at the college for 15 years.

Donovan isn't just an artist, but a budding scholar as well. He's writing a textbook on fashion and lifestyle illustration. And though fashion illustration may not be as prevalent as it once was, that didn't stop the editors at InStyle magazine, who commissioned him to illustrate Meg Ryan wearing Calvin Klein for their October 2008 cover story. Edith, eat your heart out.