Amy Kim-Araneo, Jewelry Design Alum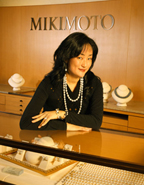 I sit at the dining room table with all my tools out. I have big windows and a lot of light and open air, and I can unwind and relax into creative thinking. I used to work in a separate room far from the kitchen. I was always wandering back and forth even if I wasn't hungry. Working with the kitchen behind me, I get some kind of mental fuel, plus it gives me a homey feeling of security that helps me not worry about anything, just focus on creativity.
I need some kind of structure before the creativity really flows. If I didn't have deadlines and structure I wouldn't get anything done. I have to design with pearls, and even though they come in every color in the rainbow and different sizes, I still need a frame to build my design within. Some people say, "Don't you get bored designing only with pearls?" The limitation actually pushes my process open, actually motivates me to produce more unusual, creative designs the world hasn't seen yet.