Assistant Professor; Director of the Writing Studio
Office location:
C612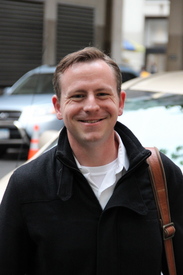 Telephone: 212 217-3062
Mailing Address
Seventh Avenue at 27 Street, Room C612
New York City 10001-5992
Education
PhD, Composition and TESOL, Indiana University of Pennsylvania, 2010
MA, Rhetoric and Composition, Colorado State University, 2004
BA, English Language and Literature, University of Kansas, 2002

Message to the FIT Community
All members of the FIT community are invited to collaborate with the Writing Studio. The main objective for the Writing Studio is to be an inviting and productive space for teaching, learning, and writing. The Studio works toward this goal through the peer-tutoring model, which creates a learning environment that fosters growth for both student writing consultants and writers.
Since the Writing Studio is strongly committed to collaboration, building and fostering strong relationships with faculty members across the disciplines and in the various programs offered at FIT is important. Such relationships offer the faculty, and FIT students, the best opportunities for teaching and learning in a cross-curricular effort focused on student success in learning, thinking, and writing.
Academic Interests
Peer Tutoring in Writing, Writing Center Theory and Practice, Collaborative and Co-Learning, Composition Theory and Pedagogy
Brian is the founding director of FIT's writing center program, the Writing Studio. Since fall 2008, the number of students using the Studio has more than doubled, and the staff has grown from nine to 28 peer tutors. He also teaches basic writing, college writing, creative non-fiction, and research writing courses in FIT's Educational Skills Department, English and Speech Department, and Sustainable Interior Environments Graduate Program. 
Brian is the current president of the NYC Metropolitan Affiliate of the Council of Writing Program Administrators and he also serves as the treasurer of the National Conference on Peer Tutoring in Writing (NCPTW). In addition to his post as NCPTW treasurer, he has been an active member of the NCPTW steering committee as both a webmaster and conference organizer since 2002. He was a leader at the 2012 International Writing Center Association's (IWCA) Summer Institute for Writing Center Directors and Professionals and has been invited to speak on writing center work at a number of events and campuses in the NYC area. As co-host of the 2012 SUNY Council on Writing conference, he helped demonstrate FIT's commitment to teaching writing  to an audience of writing scholars and teachers from the SUNY system and beyond. In fall 2011, he delivered the keynote address at the NCPTW meeting in Miami. Brian received the 2010 Ron Maxwell Award for distinguished leadership in promoting the collaborative learning practices of peer tutors in writing and co-won the 2007 IWCA scholarship award for an outstanding article.