Champions of FIT's International Trade and Marketing (ITM) program, that is. The third annual ITM Scholarship Breakfast, held April 21, 2009, raised a record amount—more than half a million dollars—to fund scholarships for ITM students. The event also attracted a record number of attendees.
There, more than 400 industry notables from the U.S. and abroad gathered to help FIT pay tribute to Donald Baum, senior vice president and head of sourcing and manufacturing for Polo Ralph Lauren, who received the 2009 ITM Global Sourcing Executive of the Year Award. The award recognized him as an outstanding global leader in international trade and marketing, and an exemplary role model for FIT students.
Support for the event has grown each year, said ITM Chair Christine Pomeranz. And it's no wonder. The program—developed with the help of the international trade industry and FIT alumni—is the only one of its kind in the country and, perhaps, the world. Students learn strategizing, sourcing, shipping, managing, and marketing—and how to do it all throughout countries with different trade policies, currencies, laws, infrastructures, and cultures.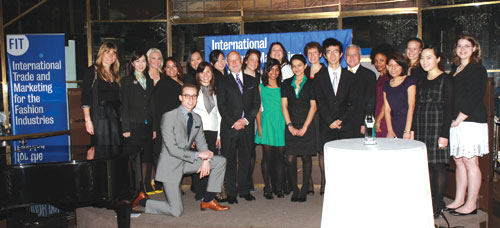 ITM faculty members are practicing professionals from four continents, with experience in more than 50 countries. Students learn to navigate the financial, legal, logistical, and intercultural aspects of importing and exporting apparel, textiles, accessories, and more. They also benefit from internships at international companies based in New York or elsewhere in the global community, and through study abroad opportunities. And an Industry Advisory Board ensures that the curriculum evolves with trends in the field, and that classroom instruction reflects the real-world business environment.
Since the program's inception in 1996, nearly 900 students have graduated and now work worldwide at such diverse organizations as Tiffany & Co., Li & Fung, Nicole Miller, Iconix Brand Group, Redcats, Liz Claiborne Inc., Donna Karan, Lilly Pulitzer, Samsung, and the U.S. Department of Commerce.
Soojin Yoon, recipient of the 2009 Representative Tom Lantos Scholarship for $10,000, enrolled in the ITM program after working as a merchandiser and planner for Gucci and for Handsome Corporation in South Korea. Since graduating this summer, she has been working as a research associate for international licensing in premium denim at H. Welt Company. "I built a solid academic background in the international area to complement my previous work experience," Yoon says. "FIT faculty members share knowledge and experience that cannot be learned through books alone. In the future, I would also like to teach at a college and share my own experiences with students."
Today fulfilling those dreams requires that FIT graduates know far more than they once had to know, Professor Pomeranz says. "They must be fully prepared to function in a complex global environment. Thanks to our strong program, outstanding faculty, and the support and involvement of our industry partners, FIT is helping them meet the challenge."