FIT Executive Women in Fashion is an educational and networking program for executives and managers in retailing, fashion and related industries, offered through FITís Center for Executive Education. The program provides women executives with the access, information, and connections necessary to advance in their careers.
Traditional business seminar topics in conflict management, creative and critical thinking, effective communications, executive coaching, networking techniques, and strategic planning are tailored to address the singular opportunities and challenges facing women professionals today.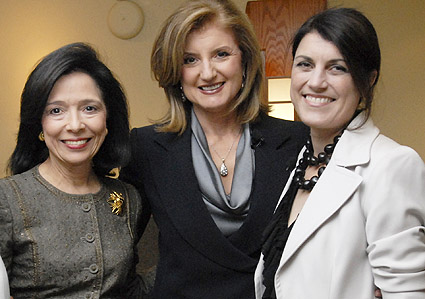 Dr. Joyce Brown, President, Fashion Institute of Technology, Arianna Huffington, Founder, Huffington Post, and Claudia Cividino
FIT Executive Women in Fashion hosted "An Evening with Arianna Huffington" on November 12th at the Fashion Institute of Technology. Arianna addressed a distinguished gathering of women at this extraordinary evening of networking and cocktails. A diverse group of successful women business leaders from around the country attended including corporate officers, business owners and entrepreneurs.