Saúl López Silva, Global Fashion Management Alum
Country Manager for Mexico, WGSN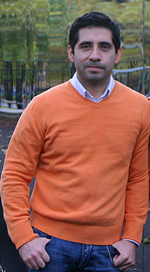 Before coming to FIT, I worked for the Mexican footwear company Capa de Ozono for seven years. I felt that we neededóin that company, and throughout the fashion industry in Mexicoóto expand globally and learn from companies that already had a great deal of success. I found a book called The Dynamics of Fashion by Elaine Stone, an FIT professor. It inspired me, and I found out about FIT through it. I wrote to Pamela Ellsworth, chair of the GFM Department, and applied to the program.
In Paris, I got to know the design side of the industry, especially at the luxury end. We got to meet the head of design at Christian Dior. In Hong Kong, we explored the production side, and learned about the next steps the Chinese are taking to be more competitive and efficient.
Being informed about whatís going on globally is essential, and Iím applying 100 percent of what I learned at FIT here at WGSN. The program is about making companies global; you canít just rely on your domestic market. Thatís a message that I take from FIT to the Mexican fashion industry.
Iím still in contact with people from FIT and Iím still interested in going to lectures. It's a relationship that should be maintained, and a learning process that should never stop.