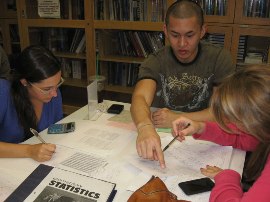 The Academic Skills Tutoring Center is a free service for all full-time and part-time students enrolled in credit bearing and remedial courses for the current semester, offering a variety of tutoring options in a wide range of disciplines.
Our Mission
The Academic Skills Tutoring Center provides all FIT students who are registered in credit and remedial courses with the support system they may need in order to be successful in their classes. Our services enable each student to acquire the skills necessary to become well-rounded, independent learners.
We Offer:
Location and Contact Information
David Dubinsky Student Center, A608B
AcademicSkillsCenter@fitnyc.edu
212 217.4080
212 217.4081 (fax)
Office Hours
Beginning the third week of Fall and Spring semesters:
Monday - Wednesday, 9:00 am - 2:00 pm, 3:00 - 7:45pm
Thursday, 9:00 am - 2:00 pm, 3:00 - 6:45 pm
Friday, 9:00 am - 2:00 pm, 3:00 - 4:45 pm
Saturday, 10:00 am - 2:45 pm (Saturday hours begin the fourth week of the semester
Prior to the third week of each semester, our office hours are Monday - Friday, 9:30 am - 4:45 pm.
During Winter and Summer sessions, please call for hours.