News and Events
CENTURY21 DEPARTMENT STORES OFFERS
WINTER/SPRING 2013 INTERNSHIPS
Century21 Department Stores is offering students Internships in Buying and in Store Management for the Winter/Spring 2013 semester. Read more about these exciting opportunities and see details on applying:

EARN A CERTIFICATE IN RETAIL MANAGEMENT!

The certificate is intended to develop the skills and abilities of professionals who are currently employed in mid-tier positions in retail management or who possess a baccalaureate degree in a discipline unrelated to Fashion Merchandising Management.
FIT's certificate program in Retail Management, developed in partnership with the National Retail Federation (NRF), addresses general analytical and problem solving abilities as well as industry requirements and essential specifications to manage retail operations both here and abroad. In addition, a mastery of foundational skills in Microsoft Excel, retail merchandising, and management skills will be provided.
The program includes five courses to complete over three semesters. Two certification exams are also offered: MS Office Excel (Level 1) and the NRF's National Professional Certification in Retail Management.
Read more or apply for the certificate program....

COLLEGIATE DECA COMPETES IN ANNUAL COMPETITION
Ten FIT students (many FMM majors) experienced a very positive annual COLLEGIATE DECA ICDC Conference and Competition in Salt Lake City, Utah from April 21 to April 25, 2012!! We are proud of all of them for taking the time and effort (and stress that goes along with it) to compete in the annual COLLEGIATE DECA ICDC (International Career Development Conference). During this event, they must subject themselves to a 100 question exam on Fashion Merchandising & Marketing and then a case study that must be prepared in just 30 minutes, followed by a stressful role play, and all in front of industry judges!! But they all did it!! Johanna Brozinsky (Fabric Styling / FMM AAS) placed as a silver-medal winner in the first round role-play in the FMM event, earning a spot in the next round of case studies / role-plays. Kelsey Ives (FMM / BS) was awarded a medal for "Best Role-Play" in round-one, and won a plaque and gold-medal as the THIRD-place international winner in FMM!!! Awesome work!! They both brought pride and recognition to FIT!!

FMM 422 MERCHANDISING STRATEGIES
KICKS OFF SPRING PROJECT WITH CHICO'S
On Tuesday March 27th The Katie Murphy Amphitheatre was filled to capacity with FMM senior students. Prof. Catherine Geib and Prof. Vinnie Quan kicked off the meeting to the senior class. As part of their Senior Project (FM422) they are invited to a question and answer session with a major retailer who volunteers to sponsor our FMM Senior Class. This year's Company is Chico's Brand. Following the meeting the students create a merchandise strategy for the company incorporating all of the lessons learned in class, plus the information gained during the presentation. According to our students the meeting was a huge success. The presentation started out with Cinny Murray, President of Chico's, giving an overview of the company mission and financials, followed by Liz Hodges, VP Marketing, giving an exciting preview to the future of the Chico's Brand. Afterwards, students asked interesting and professional questions about the business to help complete their final projects. Every semester the best projects are submitted to the sponsor company who pick a winning project and consider it for possible adaption.

Chico's also announced big news. This year's winning team will be flown to Florida for a VIP tour of the company, potential interview and a $1000 prize for each winning team member. WOW Chico's!!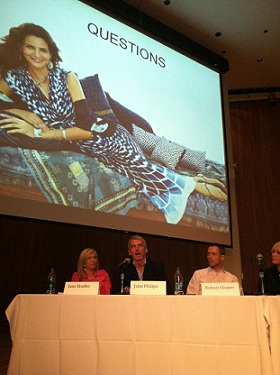 From left: Lisa Shaffer (Director Store Comm), John Phillips (VP Creative Brand Merchandising), Robert Graser (Director Merchandise Planning), Cinny Murray (President Chico's Brand) Not Shown: Liz Hodges (VP Marketing), Rochell Udell (Group SVP Creative)
FMM STUDENT FINALIST IN STYLIST COMPETITION
FMM student, Alexis Katsafanas, was chosen as one of 8 finalists out of more than 100 students from FIT and LIM who entered a competition sponsored by Lord & Taylor. The event- YOU'VE GOT THE LOOK- required the contestants to submit a look based on one of the Spring Trends identified: Global View, Power Pastels or Bright Side. Alexis and the other 7 finalists dressed models in outfits picked from the L&T store; instructed hair and make-up; and walked the runway along side their models to the judges' table. The judges for the event were Suze Yalof Schwartz (Fashion Editor at Large), Carmen Marc Valvo, Paula Correri (L&T Fashion Director) and Corinne Brohme (L&T Creative Director). While Alexis did not win the Grand Prize, she was grateful for the experience to be able to do something that she's passionate about!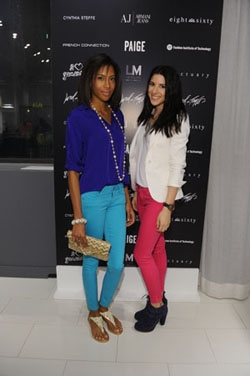 FMM STUDENTS ATTEND USWIB CONFERENCE
Three students from the National Retail Federation Student Association (NRFSA) attended the first annual Undergraduate Stern Women In Business conference held at NYU on Friday, February, 24, 2012. The conference provided a platform for female undergraduate students along the Northeast to connect with each other and with successful female executives in business. Alyssa Rinck, Rachel Rapkin and Newresa Joseph represented NRFSA and FIT at the conference. Read more about their experience.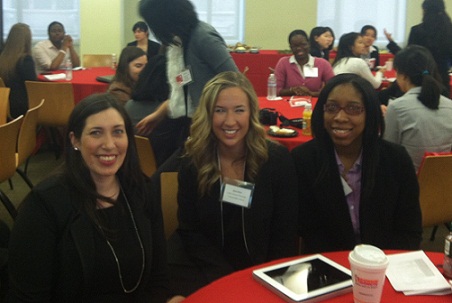 Rachel Rapkin, Alyssa Rinck, Newresa Joseph


FIT COMPETES IN WORLD RETAIL CONGRESS COMPETITION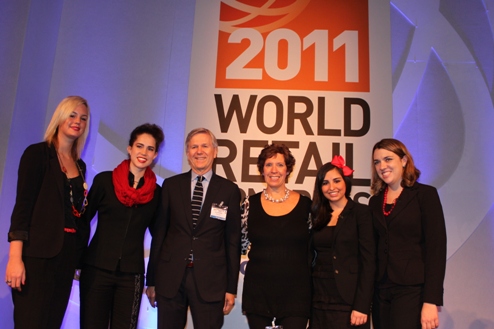 Fashion Institute of Technology was one of six colleges that competed in the World Retail Congress Competition. The conference is held every year and all of the major retailers throughout the world attend. This year, the competition was held in Berlin in September. The students chosen to represent FIT were Ana Zegarra (FMM), Kelsey Ives (FMM), Elizabeth Costello (FMM) and Larissa Zemke (ITM).
Each year, our sponsor has been Warnaco. This year, Joe Gromeck, CEO/President of Warnaco attended the competition and introduced the team. Robin Sackin, Chairperson of FMM also accompanied the students. All are featured in the photo above.
BRAG CLUB VISITS LIMITED BRANDS
FIT BRAG Club students were invited to visit the Columbus, Ohio facilities of Limited Brands April 27th to April 28th. This was the first trip of this kind since the FIT BRAG Club began in 2001. Read more and enjoy photos of the trip!
GUEST SPEAKERS VISIT FM 423 CLASSES - FASHION PLANNING AND ALLOCATION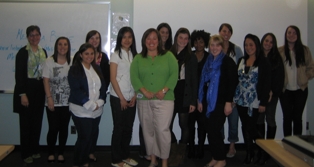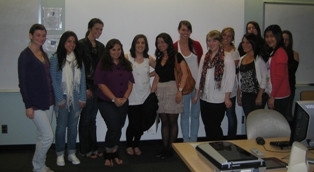 On Thursday, April 15th, Ali Castiglione stopped by to visit the capstone course for students interested in careers in Buying and Planning. Ali graduated in December, 2008, and was hired by Tommy Hilfiger while completing her senior internship there in merchandising. She is currently an Assistant Merchandiser in Girls.
On Thursday, April 29, Melissa Boone visited this class. Melissa is currently a consultant for Columbus Consulting International. Most recently she helped Carter's, located in Shelton, CT, implement JDA Allocation. This is the software students learn to navigate in FM 423. Prior to Columbus Consulting, Melissa worked at Charming Shoppes, Lane Bryant Division, in Allocation and Replenishment using and training for JSA Allocation and E3.
Ali talked about what she is currently doing at Tommy and noted how much of what she learned in the Planning and Allocation course she uses in her daily work life. Melissa shared her industry experiences with the class and also noted how fruitful LinkedIn has been for her.