Shelf-centered
Organizing your stuff, with Janet Valenza, Fashion Design '01
By Alexander Gelfand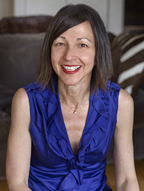 As the owner of Closet Revolution, storage guru Janet Valenza, Fashion Design '01, brings a designer's eye to home organization. A former Young and Rubicam CFO with an MBA from NYU, Valenza worked for a national closet-design company before launching her own storage and organization business. Here are her tips for getting control of your stuff.

Don't leave storage for last. Most interior designers are so focused on elements like color and carpeting that storage is an afterthought. But you can't address the layout of a room until you've determined its storage requirements.

Analyze your activities. Think about what you do in the space. If you use the living room for art projects, gather all your art materials there—even if it means pulling stuff from other places.

Hide the clutter, highlight the beauty. Every room has something beautiful: a striking mirror, a stunning couch.
Stash anything that obscures it from view.

Edit your stuff. You'll be amazed at the degree of duplication among your belongings—and at the amount of junk you've forgotten about entirely. Decide what you really need, then let go of what you don't.

Measure your materials. Don't buy a bunch of containers without first making sure they're the right size for your stuff.
And always store small things first, since small containers can be nested inside larger ones.
Make sure your storage matches your existing style and room details. The stuff you use to hide your stuff should not in itself be obtrusive.

Be versatile. This is especially true if you own the place. Customize your storage solutions to meet your particular needs, while keeping them flexible enough to enhance resale value.

Single planes soothe the mind. Strive for continuous, uninterrupted surfaces—like a single L-shaped desk that runs along two walls, rather than two separate desks with a gap between them. Mount cabinets at the same level to create a unified line.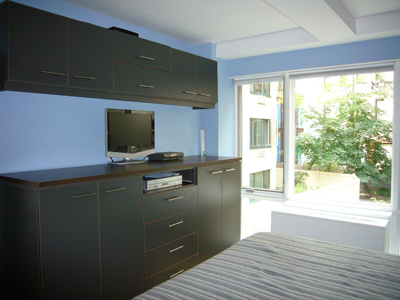 An uncluttered space signals a clear frame of mind.